Floor Fruit Stand
---
Use a Floor Fruit Stand for Displaying Produce
Supermarkets and grocers are always on the lookout for new ways to display and store their fruits and vegetables in the storefront. Commonly, a floor fruit stand is used as a multi-tier produce display unit alongside the bulk wooden bins. These multiple basket fruit stands can hold several varieties of produce, or serve as a tall display for one type. Many grocers like to use these stands to highlight a promotional fruit, perhaps one that is briefly in-season, or new to the market. Display kiwis, tangerines, plums and more in a prominent location that your favorite shoppers can't miss!
What to look for in a floor fruit stand? Each stand has its own unique nuances and characteristics, requiring the purchaser to think about what they desire in their retail fixtures. Some of these floor fruit stands are designed with wheels, a very useful feature for the shopowner that needs an easily portable fixture with rolling casters. Choose ornate and decorative baskets with black bins that will contrast the lime green or black orange rinds of tropical fruit, or embellish bright red Macintosh apples. Many of these fruit stands break down for easy storage, so they can be locked away in the closet when they are not in use.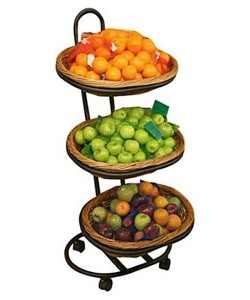 One popular option is a rolling wicker basket stand. The wicker bins add a country style to your storefront while contributing valuable storage space as a fruit rack. The natural presentation makes shoppers feel secure about the source of their produce, and encourages purchases as a merchandising tool. One great feature of this fruit bin is the wheels, which allow you to roll the basket rack outside the store on nice days, to attract passersby into your store. For a more stationary fixture, use a weathered wooden display as a floorstanding fruit dispenser. The beautifully stained pine wood has ample storage and display space for even large produce like grapefruits and pears. At approximately 5 feet tall, it is the perfect height to display premium fruits and vegetables. Check out these items, and the rest that have been selected, but don't stop there. Displays2go has thousands of retail fixtures including POP displays, gondola shelving and more!