Locking Display Cases Made Secure Merchandise, Exhibits, and Collectibles
---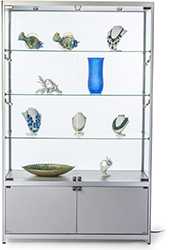 Display Cases with Locking Tempered Glass Doors
Need to a secure showcase that offers full visibility? Our locking display cases feature retail store merchandise, museum exhibits, and model collections. These glass cabinets are excellent for displaying high value items like jewelry and electronics while protecting them from theft. Locking display cases safeguard their contents with clear doors for full visibility. Our selection of showcases includes jewelry counters, tower displays, and curio cabinets for any business or collector. Browse locking display cases in a number of shapes and sizes to meet your needs for secure presentation furniture.
What types of lockable glass cabinets are available?
Large locking display cases have a high visibility design that's great for featuring merchandise and exhibits. These showcases are made of tempered glass panels with clear shelves. This gives jewelry prominence in retail stores and builds interest in valuable wares. Tall showcases with wide shelves are ideal for displaying a large quantity of merchandise and collectibles. This style of lockable glass cabinet securely features catalogs of electronics and valued collections.
Counter height display cases let viewers see their contents up close. This style includes retail cash wraps, jewelry showcase tables, and lockable museum pedestals. These shorter furnishings have less shelving space, but this is great for focusing on the most valuable items. Secure retail counters make excellent points of sale, featuring the cash register next to high interest merchandise. Customers can ask the cashier to see jewelry and watches and make purchases right there. Museum pedestals create a prominent, attractive fixture for a limited number of exhibits.
Lockable countertop display cases place their contents at eye level. Retailers often use these tabletop cabinets to feature new lines of electronics like smartphones and cameras. Small merchandise, such as makeup accessories and vape juice containers, fits perfectly into these fixtures. For stores on a budget, our line of secure acrylic cases are highly affordable and keep wares visible.
Wall mounted cases are excellent when floor space is at a premium. These cabinet mounts all feature mirror backs that give viewers a 360 degree view of the items inside. The tempered glass wall mounts are available with either a modern metal frame or a classic curio cabinet style. Contemporary models include top lighting with halogen or LED bulbs. Our traditional curio cabinets are made of real wood and can be placed on countertops as well.
These lockable cases are great not only for keeping valuables safe from theft, but keeping them visible to everyone. This creates a feeling of exclusivity that makes products more appealing. Museums safeguard ancient artifacts and beautiful sculptures while presenting them to the public. Collectors use the fixtures to protect their models from dust as well as curious viewers' fingerprints.
Want a captivating showcase that grabs attention with electronic signage. These digital display pedestals feature video advertisements with LCD screens. This multimedia presentation draws attention to upmarket items and new product lines. In learning environments like museums, they give more information about exhibits. Play video behind or in front of the subject for a modern, informative display.