Quick Ship Display Cases
---
Quick Ship Display Cases w/ Lighting & Tempered Glass

Why do purchasers flock to this selection of display cases? These models are quick ship. When you need a display case on a deadline, it can be tough to find a large selection with shortened lead times. Our varied catalog of floor standing, wall mounted, and tower-style showcases offers plenty of choices to help you find the right fixture for your business. The best part? Each one ships the same day when you order by 3PM Eastern Time US.
What styles of cabinets are available with this "Quick Ship" offer?
Glass display cases for placement up against a wall — This type of showcase is very time consuming to build, due to the size and nature of these units. As a result, lead times for these types of glass display cases on competitors' websites can extend into at least a week for building. Most retail locations are unable to wait this long. This is why these glass display cases are pre-assembled and stocked in this warehouse.
Retail counters for use by several store and kiosk locations — These types of glass display cabinets generally take 2-3 days minimum to build, depending on customer order size. However, these are some of this company's most popular showcase units, even more reason to have them pre-assembled for accelerated shipments.
Tower showcases for placement within a store or boutique — These glass display cases are similar in design to the wall units previously mentioned. However, these units are generally on a smaller scale than the wall showcases, but can still take a few days to assemble as well. Competitors cannot compete with the lead times found on this website for glass display cases.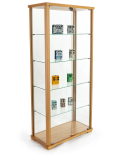 Besides a shortened lead time, what differentiates these showcases from others sold by online competitors?
These glass display cases are part of a comprehensive selection of fixtures. The showcase is home to hundreds of showcase designs and sizes. With this big of a selection, customers are sure to find the glass display cases to suit both their budget and their store location.
This online catalog includes more than just a few retail counter and showcase options to choose from. With over 7,000 unique displays available, shop owners will find everything they need to display items both on top of and within the glass cases.
Most of the merchandise offered on this site is stocked for same day shipments. If an item is in stock, simply place your order by 3PM Eastern Time US, and that item will ship out from this stocked warehouse the very same day!
If you need a display case immediately, our selection will have what you need. Shipping such large products in one or two days is a commodity that many retailers don't offer. Place your order today!