Wood Display Cases Feature Real or Laminate Wooden Finishes
---
Showcase Merchandise and Collectibles in Attractive Wood Display Cabinets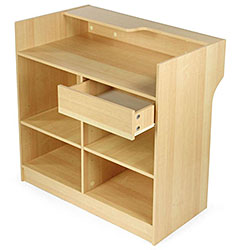 Retail store fixtures commonly fall into two categories: plain or decorative. Wood display cases help embellish interiors thanks to their rich, warm finishes. This can be an important consideration for any store owner based on the kinds of products they sell. Wood display cases make excellent merchandisers for top-tier items like jewelry and other upscale gifts. Handsome wooden finishes are the perfect accompaniment! Deluxe cabinets are available with solid wood construction but we also offer a fine selection of fixtures with affordable laminates. From checkout counters to tall curio cabinets, our wood display cases come in models suited for both commercial or residential applications. Read on to learn more about the distinguishing features each style has to offer!
Why are showcases with engineered wood panels so popular with retailers?
Display cases with laminate finishes offer more affordable options when compared to styles with solid wood construction.
The melamine panels feature low-pressure laminates in attractive cherry and maple, predominantly.
Their designs are simple and modern. Smooth sides and straight lines embody a more utilitarian aspect.
Most models are available in counter-height sizes for accommodating customers at time of checkout.
Laminated display cases are also modular. You have the ability to mix-and-match showcases and counters into a customized cash wrap system.
What do stylish curio cabinets have to offer?
Solid wood display cases are defined by details. Elegant moldings raise these models beyond the purely functional. Cabinets are available with oak, mahogany, or cherry stained finishes.
Unlike the laminated styles, curio showcases feature heirloom quality construction. Their traditional designs look more like furnishings one would see in the home.
Suitable for residential as well as commercial use, solid wood cabinets also feature more interior lighting options. What better way to showcase high-ticket merchandise, antiques, or collectibles than under dramatic illumination!
Another defining curio cabinet feature is the mirrored backer. Mirrors add greater depth to the overall presentation while also providing a rear view of the items displayed.
Our traditional solid wood cases are available in floor standing, countertop, and wall mount styles.
Safety is always a concern when working around cases fabricated with lots of glass. Due to the size of some of these fixtures, it pays to incorporate the best safeguards in the event of breakage. As a result, all display cases are manufactured with tempered glass in the doors, sides, and shelving. If you plan to showcase collectibles or items for sale in varying sizes, we recommend purchasing a model with adjustable shelving. Security is another consideration. Opt for a locking cabinet for protecting expensive merchandise or a valuable personal collection. Whether you're a retail store owner or residential homeowner, the beauty of wood can enhance any interior. The natural material is the distinguishing factor, which also makes it suitable for more personal applications. Memorial flag cases honor the fallen by celebrating service and sacrifice. Their high-quality wooden construction and rich finishes provide the perfect platform for remembrance.