Feather Flags & Banners - Custom & Stock Messages
Feather Flags - Your Best Outdoor Advertising Tool
Does your business have everything it needs for interior merchandising yet still lacks an effective outdoor advertising solution? Our online catalog at Displays2go.com offers the most popular feather flags in every size and style! These flutter-style banners are built to draw customers from outside into any establishment. Passersby are absolutely defenseless against their lure! Many companies implement custom teardrop and flying banners to increase brand recognition, advertise new merchandise or exhibit logos and slogans in an outdoor setting. These inexpensive feather flags are available as teardrop banners, swooper displays, stock message pennants and flag stands. Most of these pennants provide users with an excellent way to target advertisements, as they can be custom printed. In addition, these custom feather sail flags are lightweight and feature easy portability. In fact, some banners even come with handy carrying bags. Combine custom feather flags with a banner pole, and set them up at any beach, plaza or retail store.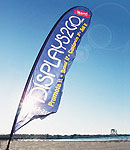 A custom feather flag is commonly used for festivals, performances, street fairs and athletic competitions. These banners are engineered to stand up in fair to moderate weather, including wind, rain or snow. Oftentimes, high winds damage banners; however, these displays offer rugged construction. This is also why they are often referred to as sail flags. Other flagpoles allow custom printed advertising messages to drape around the pole so it becomes entangled during times of insufficient wind. Several of our more sizable banner stands feature the ability to rotate with the wind, which helps to avoid tipping over and unsightly tangling. This capability not only creates an alluring motion, but also users do not have to be worried about advertising being unreadable due to poor weather.
What features make these sail flags stand out from the competition?
These units are generally coupled with custom printed graphics or lettering that helps businesses present advertising messages to specific clients or customers.
The designs of these teardrop banners are easily disassembled and are light in weight. Carrying cases are often packaged with these units, making setup and transportation even simpler.
Portability is essential, and a well-designed, user-friendly display makes all the difference when you need to advertise on the go.
Some of these custom feather flag stands for promotion are equipped with arms that keep pennants stretched out and noticeable even when there is little wind.
Some models rotate during wind gusts to prevent damage to the unit. The motion created is eye-catching and gets customers to pay attention to signage. These units are an intelligent choice because they function better in high winds than other stands.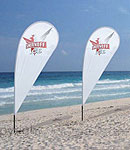 What types of promotional flag & pole systems are offered?
Popup A-frames & sideline displays feature small footprints and are very practical options. Outfit this signage with graphics or a logo. Due to their diminutive size, these marketing fixtures work seamlessly in both interior and outside environments. They also have strap and stake systems to keep them from blowing away.
Teardrop banners are preferred solutions, especially because they are straightforward yet highly effective displays. Models like these flags are seen in front of businesses all across America, so you know they get the job done! These slightly larger options measure between 7-1/2 and 13-1/2 feet tall.
Feather advertising flags are common throughout the signage circuit because they are tall and prominent, yet inexpensive. They come with ground screws and water bags for stability in reasonably windy settings. There are also other items that feature plastic polymer fillable bases for to withstand winds up to 50 mph. Stock and customizable designs available.
13' Flag stands with fillable plastic bases are very noticeable fixtures that are often set up at car dealerships, trade show events and conferences. Signs like these provide high impact without the frustration of ordinary large stands. These models are also easily transported using their included carrying bags.
The largest of the flagpoles is a little over 17 feet high and comes equipped with a polymer base that folds in half. The base can be filled with water or sand to keep the display upright in winds up to 31 miles per hour. Two carrying cases are provided with each stand, which enables the user to easily relocate it. These large banner stands help leave a lasting impression with customers.
Custom Banner Printing: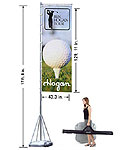 Fluttering flag displays are sold as packages or individual items. Furthermore, our company prints your specific signs for you. Purchase banners with either silk-screened or digitally transcribed imagery. Also, choose from one or two-sided layouts. Finding the best method for image reproduction is idiosyncratic, so understanding the process helps customers make the optimal choice.
Digital printing allows the most innovation when choosing graphics for a sign. These prints can be done in as few as one item batches. Because no one can guarantee exact coloration (as every computer monitor varies), our company suggests utilizing Pantone® colors. These colors help ensure the closest possible matches. More expensive models use dye sublimation for extremely vibrant and long-lasting graphics. Another advantage of this method is that images can be detailed or simple. Certain companies prefer signs with solid backgrounds that feature plain logos or slogans, while other businesses desire more complex presentations.
Another means of printing teardrop banners is vinyl silk-screening. Heat-transfer vinyl imprinting is obtainable on many of our signs. This message signage comes with nine color options, and there is a choice for 1-color or 2-color printing for each. There are some restrictions, though. Every item page provides a vector artwork link with details on the submission procedure. When using vinyl colors for artwork, consider how the images and wording will appear when printed on the canvas surface. Single color printing is great for many advertisements. Sometimes a single color graphic is more appealing than a busy, digitally printed image. If a logo has overlapping shapes, then 2-color printing may be the option you need. Please note that vinyl options typically require a minimum order of ten swooper flags.