Promotional Banner for Advertising in Many Configurations
What types of locations are most ideal for setting up promotional banners? Due to the wide range of layouts, custom options and sizes offered, these signs are great for implementation anywhere! In fact, the promotional banner has recently become one of the most preferred methods for advertising both indoors and out. Marketing tools are a necessary purchase for any business because potential customers and casual viewers are easily drawn to color printing. These promotional banner displays, or tradeshow supplies, assist organizations and corporations with expanding brand awareness, increasing client bases and acquiring publicity. A bonus of these units is that they can be custom printed with logos or text in order to get onlookers to attend events or buy certain merchandise. Additionally, most every promotional banner may be purchased with flagpoles, hardware and accessories for full-blown public relation solutions. A lot of establishments position flag signs in storefronts or in entryways to bait customers. Getting the best promotional banner is imperative for any establishment, and these items enable flexibility. Our displays are manufactured from only the highest quality materials—primarily vinyl—and their portability is unmatched by other systems. Displays2Go.com sells this promotional banner in every configuration and dimension, so shoppers will be certain they are purchasing the styles that suit their specific needs! Have a look at our extensive catalog to discover the best displays at the lowest prices.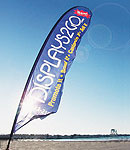 The banner is diversely designed for application at events from outdoor festivals to indoor trade expos. A flag is also set up at other affairs, like surf competitions or golf tournaments. This display is optimized for use inside at tables, outside on street poles, in storefront windows or any other place that requires a successful strategy. One characteristic shared by every option listed above is that they feature durable construction to withstand any intended application. Wind, rain and snow are no longer obstacles for some of these promotional banners. Oftentimes, gusty winds wreak havoc, but these flags are built from the strongest materials, like vinyl, in order to avoid damage. Indoor models are equipped with small but sturdy footprints that hold up under high foot traffic circumstances. While competitors' stands allow signage to become entangled with their support posts, our promotional stands keep insignias, messages and signs readable. Another commonality between all our offerings is that they may be decorated with user-submitted custom color graphics.
What traits allow this promotional banner to last in outside or high traffic conditions?
The designs of these flag signs weigh remarkably little and offer straightforward assembly. Several kinds of bases and frames allow the units stay upright, whether they are set up on a floor or a field. Transport cases are included with nearly every accessible option, which makes transportation to and from advertising events even more effortless.
Any of the vinyl flag pennants that are printed with color, symbols or wording come treated to weather the elements—both inside at shows and stores or on the exterior of malls and arenas. Most of our stands have portable designs that either break down into more manageable components or fit into the units themselves.
A great deal of these affordable signs and flag stands are equipped with armatures or other amenities that keep pennants taut. Outstretched vinyl graphics are the only ones anyone will see, so these features are especially important to succeeding in the business world.
Why purchase promotional banners this display company?
The massive assortment of formats and preferences supplies every association with the units or signs they need. Having the appropriate equipment makes all the difference.
These solutions can be ordered with or without hardware, so customers that already own the necessary fixtures are able to order updated vinyl graphics. By the same token, clients that possess the signs yet still require hardware can be accommodated.
Custom printed digital, silkscreen and dye-sublimation are provided by our company and can help develop personalized and professional promotional banners. A wide selection of color options are also available.
Because our color digital and screen printing facilities are on site, vinyl graphics are promptly completed and shipped out. Getting everything you need from the same flag supplier is much more convenient than scouring the web for suitable trade show advertising supplies. We are known for our short lead times and expedited shipments!
These high quality flying flag versions catch everyone's attention. A backpack sign lets passersby know about certain causes or non-profits. Hanging vinyl banners draw in customers from great distances when used at seminars. Once interested attendees are at your exhibit, you should seal the deal with retractable, portable, roller, pop up, teardrop, feather and other useful signage selections. A stock with general message printing lets people know when a particular establishment is open. Street pole pennants are exceptionally strong, and the vivid colors turn heads at museums, college campuses and theaters. Promote new merchandise or coming attractions throughout several areas. Choose the most functional vinyl fixtures to add more versatility to your advertising campaign. Astound consumers with elaborate color or simple custom messages that make them want to buy your offerings!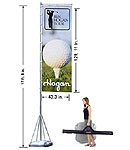 Displays2Go.com is a leading custom advertising manufacturer. We have high quality teardrop, feather, trade show, roller, popup, ceiling hung, backpack and other flags, as well as their hardware accessories for sale at low, wholesale costs. If you have any questions while placing your order, our customer service representatives are available Monday through Thursday from 8 a.m. to 6:30 p.m. and Friday from 8 a.m. to 5:30 p.m. EST. You can also call 1-800-572-2194, or while online, take part in a live chat with one of our team members. If you are unavailable during our operating hours, shoot us an Email, and we will respond as soon as possible. We maintain several fully-stocked, on-site warehouses that permit us to offer same-day shipping lots of items. If your order is in stock and placed by 2 p.m. EST, it will ship the same day. Same-day shipping is unavailable on freight-shipped orders or items that require customization. Tradeshow advertising has never been easier! Order now from our massive selection to effectively publicize events, competitions, concerts, trade shows or sales!