All Customer Reviews For BCCBLKWM24
---
Great Customer Experience
A very nice card holder, but more than that, the customer service was excellent as the first arrived damaged. One phone call and a replacement was on the way. Thank you Displays 2 Go
---
---
Owner
It is exactly as advertised. It was simple to install. The black color is quite attractive. It arrived after just a few days of ordering. If I need another one, I will be certain to purchase here again.
---
Awesome !!
Love this product - it is very clean looking and makes the many cards we have look very professional. Would recommend this product to every one !!! Thank you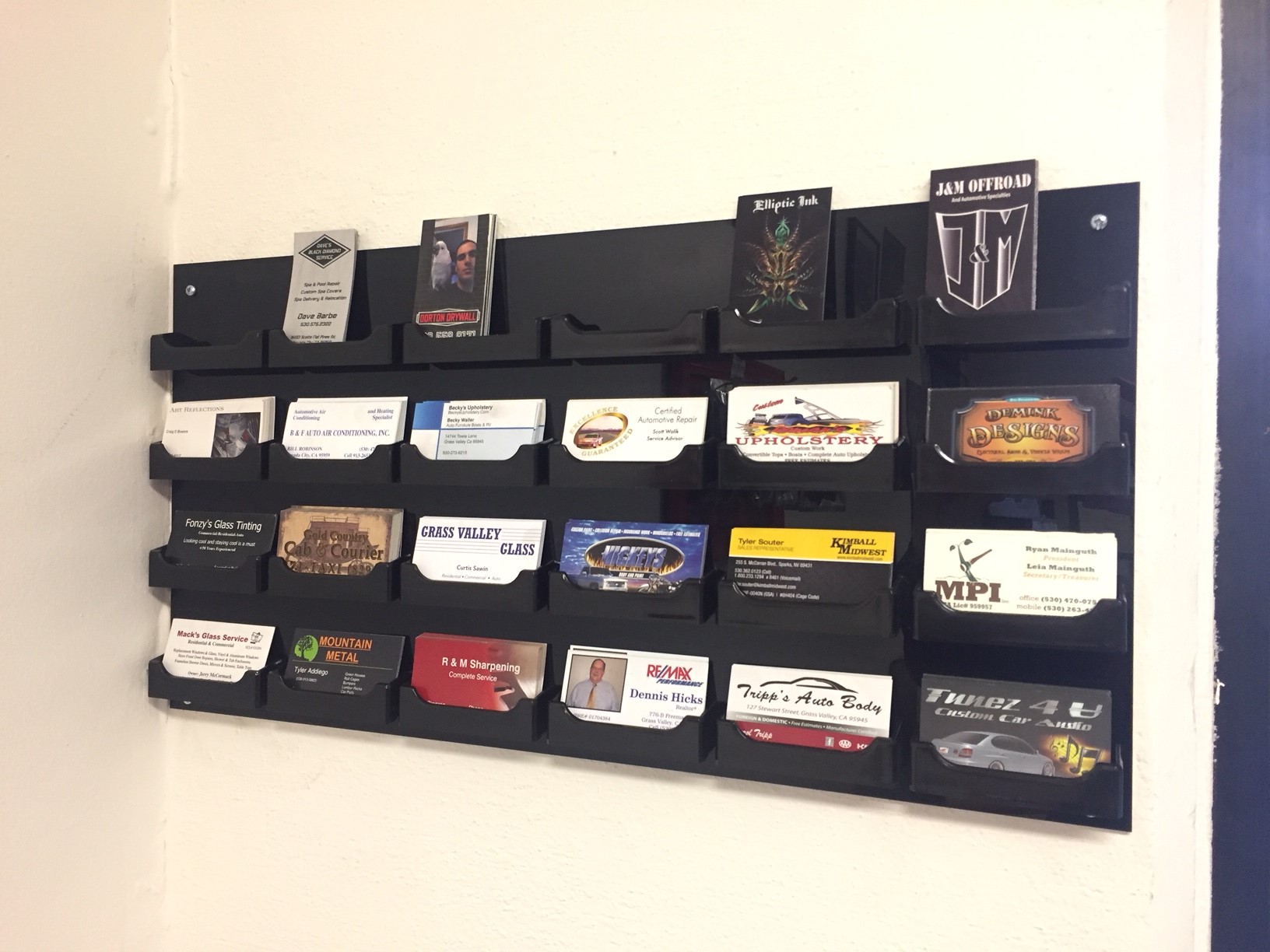 ---
Owner
Just what we needed. Fast shipping item as described. Easy to put up and fixed the mess.
---
24 Pocket Wall Business Card Holder
Love this product! This is the 4th one our office has ordered and we couldn't be happier with them! We don't use the nails that come with the holder, we use velcro command strips and they work perfectly. We will definitely be ordering more as our company grows.

---
Great Product!
Arrives quickly and in great shape. Easy to mount, looks great! This is actually the fourth one I have ordered and I will continue to order them each time we run out of space(:
---
Business Card Holder
This business card holder was easy to attach to the wall. It has a professional appearance and brings a point of interest to the front office. The packaging for this item was excellent and it arrived without incident.
---
President
This is a great product to display business cards of companies we work alongside. The product is durable and elegant.
---
Cleared up the mess
We have a multitude of local businesses who leave their business cards stacked on a shelf. This display makes it so much clearer and cleaner. Now it is easier to sort businesses together. Thank you
---
Customer
The holder came in and it looks terrific. It is much heavier duty than I expected it to be.
---
Great!
This product is exactly what I was looking for!
---
24-pocket business card holder
Love the design on this holder and love even more that it takes up NO countertop space! It was easy to install and looks great by our front door! Card traffic has improved as well!
---
---
Very Clean and Professional
I looked all over the DFW Metro for something to keep businesses around me organized and displayed in a fashion that would help make clients aware of possible products and services they may require in the future. This was my answer and so glad that I found displays2go. Every other company out there was asking anywhere between 75-150 dollars for the exact same display.
---