All Customer Reviews For MRCLSC72BK
---
TERRIBLE- SHIPPING COMPANY *****- BROKEN 2 times
Keep hoping this will actually arrive. Maybe 3rd time is the charm? You think as a company you would want your shipping company to be decent so you dont loose thousands in product. I have ordered this case twice now & both times it has been destroyed before it has even shipped. & yes they will just send your the broken cases if you are not on top of it & tell them not to. Neither this company or the shipping company do NOT communicate and will not call you to tell you they are destroyed. NO. No human decency there. You have to be on top of it to make sure a shipping company does not deliver destroyed cases with broken glass everywhere!!! worst experience with this place. My glass service counter wont be on time for opening day if it even comes in tact the third time. & the corner display cases I ordered got destroyed in the process for also the second time & apparently are on backorder until JULY now!! SO Yeah if you are trying to open a store without any problems avoid this place
---
---
Terrible Experience
The company you use to ship your product is the WORST company I've ever dealt with. I am with a government entity and I will take my business elsewhere. The company you use to deliver your product, absolutely terrible. Terrible customer service, communication, and delivery. Product shipped 15 days late and damaged and is extremely cheap.
---
---
Arrived damaged
I have been waiting a week for my new display cabinet only to have it arrive damaged. The driver told my son it was damaged before he could even take it off the truck thankfully. In the middle of a remodel, and the main piece I have been waiting for arrives damaged. Not happy. However, customer service was very nice and they are sending out another one tomorrow. Now we have to wait another week.
---
Challenging to assemble, but awesome functionality!
My display arrived fairly quickly and was packaged in several boxes. The delivery truck driver will only unload it from the truck so be prepared to carry the heavy boxes inside yourself. A few days later, I got a few friends together to tackle the assembly. We went step by step and followed the instructions pretty closely. They were harder to follow than Ikea instructions, but not impossible. Unfortunately, there were a few issues with the parts so we had to put the assembly on hold. I contacted displays2go through the live chat and was sent the replacement parts right away. Now that we have the counter installed at the store we absolutely love it. We've had lots of compliments from customers and it has improved our workflow tremendously compared to the setup we had before. If you are good at assembling things and have a decent amount of patience, I think you will really enjoy this display. Oh, also it is VERY heavy. I recommend getting some super sliders in order to shift it around.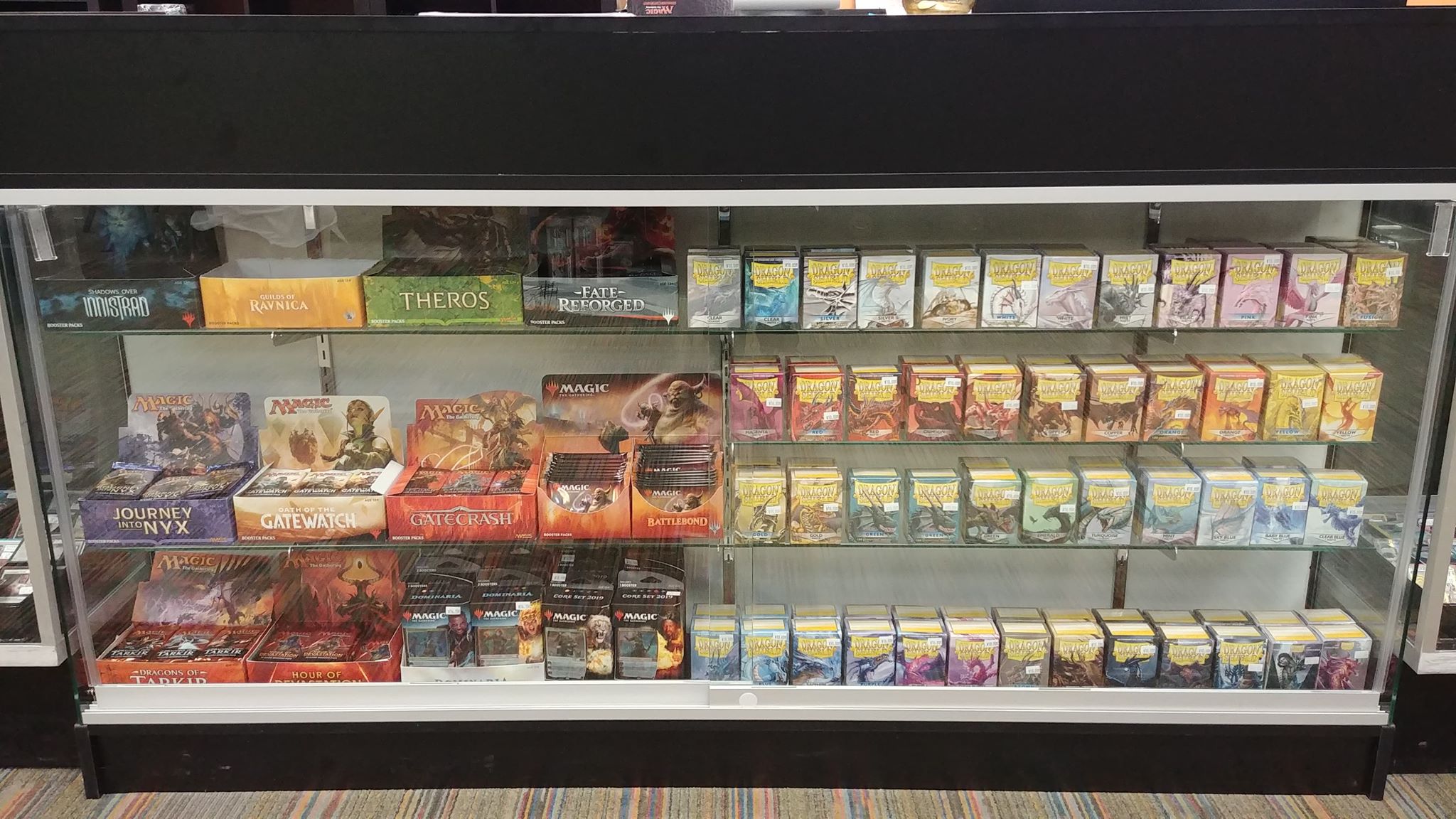 ---
Loved the look...BUT
Appears we have some missing parts and some incorrect parts and can't seem to get anyone to take care of it!!
---
Great Cabinet. Instructions for putting it together? TERRIBLE!
Purchased this cabinet for new front counter/cash wrap for my business that I moved into a smaller space. We downsized from 5000 sq. feet to 2000 sq. feet but still needed a counter for our walk in customers. Loved the display case portion of this cash wrap and it had more than enough space for our register, credit card machine, etc. However, the instructions to put it together are TERRIBLE! The photos don't correspond to the parts included, they are dark and difficult to see, never mind read. They could take a lesson from IKEA when it comes to DIY instructions. Directions need to be clear, simple and precise. Very grateful for the you tube video on the website that showed REALLY how to put it together - although the video had its flaws as well. Maybe include in the video how to assemble the drawers that go into the back of the cabinet. It's a very nice functional cabinet, directions are terrible.
---
horrible delivery
I really like the item, but I will never order from this company again as Long as they use Estes delivery company. They called to make an appointment, and never showed up, claimed it was over looked. I paid people to unbox and setup the item for nothing because the product never showed. Horrible customer service when I called Estes and spoke with Kim Stanley. Pretty much it turned out to be a very costly order having my business closed for nothing. Thanks DTG.
---
As Advertised
Assembly was as expected and product arrived in good condition. No surprises, which is good. We look forward to many years of use.
---
Lovely product
It is an amazing product when it's put together, very elegant. It takes time to assemble but the result is worth the work Thanks,
---
Impossible to build.
Unless you have 4 people... Are mechanically inclined and can decipher segmented directions where large and heavy pieces are being required to withstand gravity using one 1 inch peg stay away from this. We're going on hour 3 and havent gotten past what you see in the photo. I paid $760 for this if you include shipping and I'm about 45 minutes from throwing it in the trash.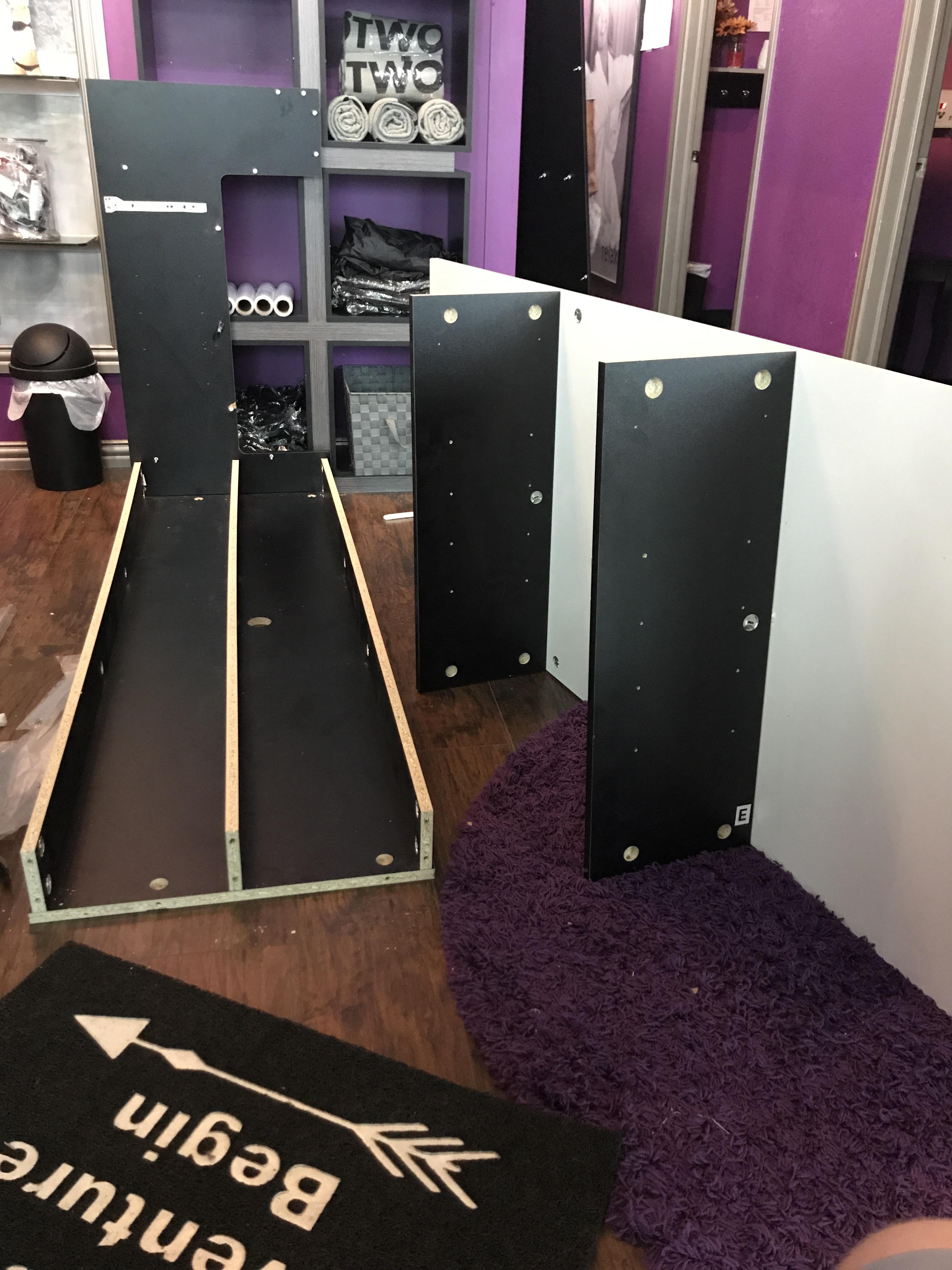 ---
OKish
Like others have said, the instructions are bad and don't match up with the included parts. Once you manage to hack it together with whatever you can find, it looks decent when assembled (aside from the light scratching on the top counter it arrived with). Lock on the front case doesn't work well, it adds too much friction to the sliding doors so we left it off. It's OK ish.
---