All Customer Reviews For GCH5712WT
---
Just What I Wanted!
This product is exactly what I wanted. It is EASY to assemble, turns beautifully and I know it will be a wonderful way to display my product. I will definitely order another one.
---
Perfect to my display!
This card display is going to be perfect for this year's craft shows. It is retail quality & the perfect size to have on a table our counter. It was a bit odd that the base & top were shipped separately, but they assemble so easily.
---
Perfect!
This item is just what we were looking for! It holds just the right amount of holiday or occasion cards so customers don't have to search the racks for them. Perfect size too.
---
Perfect for my prints!
This countertop carousel fits my 5x7 prints perfectly and displays them so none of the prints are covering each other. The assembly was extremely easy, it's lightweight and compact. If I need a second in the future I'd definitely purchase this one again!
---
Better than expected
Received my order while I was out shopping, and my husband had the two display racks assembled when I got home. It's exactly what I wanted; looks great!
---
---
Perfect!
I make embroidered-on-felt greeting cards and see them at bazaars. I needed a lightweight, easy to transport way to display them. This display piece shows them off beautifully. I couldn't be more pleased.
---
Very Pleased
This table-top card rack is excellent. It was easy to put together, although I did ask my husband to give the post an extra push to be sure it is firmly inserted. The rack turns smoothly and the white frame is smooth and attractive. I can put my 4.25" x 5.50" cards in the rack, either portrait or horizontal. Although my cards can be fairly thick, I can put five or six cards in each pocket without worrying that I will crush any card. The only drawback I have found is that the horizontal envelopes are too wide to easily insert or remove from the top. I need to turn them slightly or remove them from the side of the pocket. That's easy enough for me to do, but I'm a little concerned about what will happen when I use this rack at a craft show and customers are handling the cards. I'm hoping the clear protective envelopes I use will protect my cards, although they also add a little more width. I would order this item again if I needed a second one.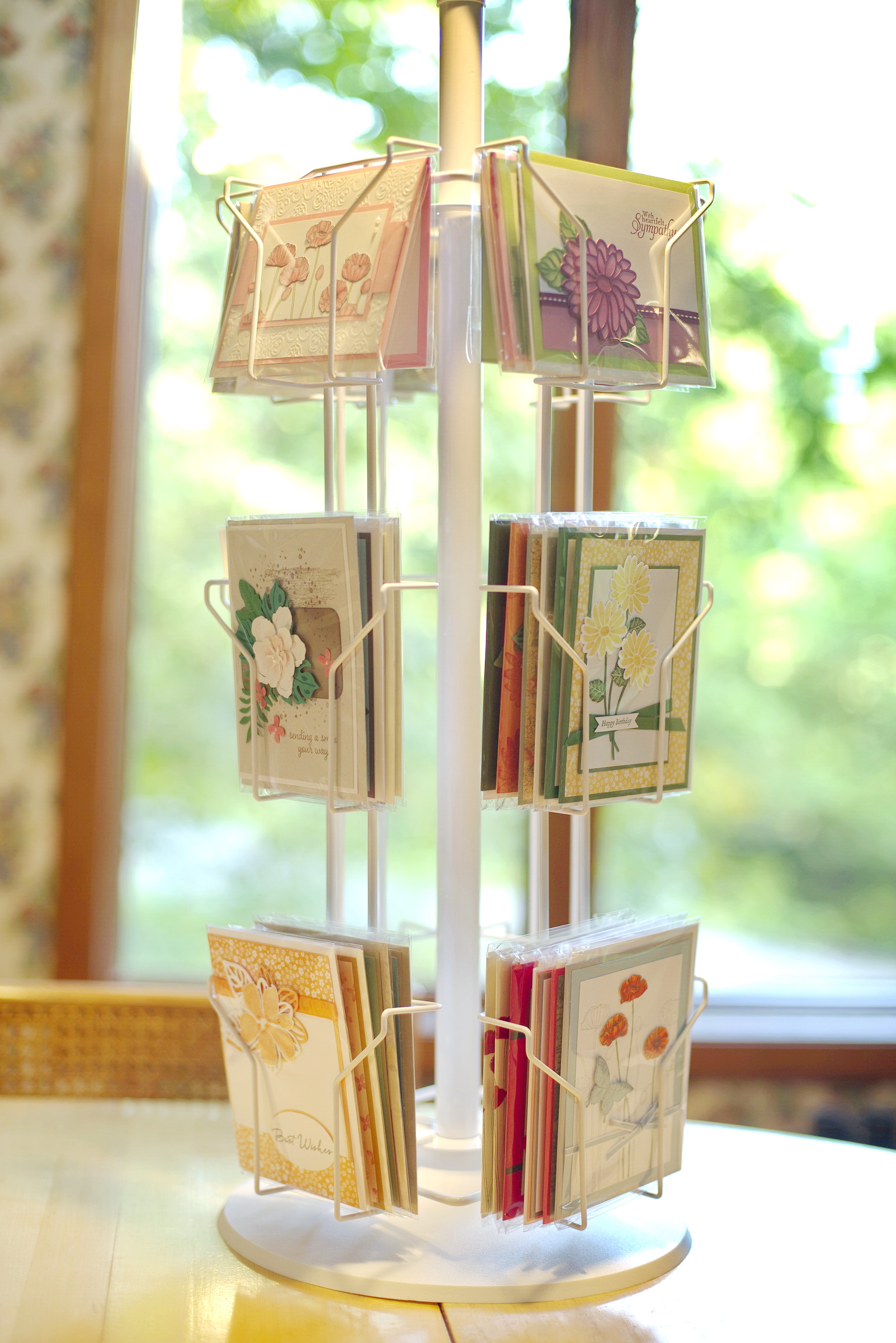 ---
Perfect for my need!
This display rack is perfect for displaying my Prayer Square cards. It is easy to transport and set up, sturdy, holds a large number of cards, and looks very professional on my display table. The sign clip on top is great for holding signage giving all information needed about the cards. I'm very glad I purchased this display rack and would highly recommend it
---
Great product!
Very easy to put together, very sturdy, so far so good!
---
---
Love it!
This is a new addition to our happiness at work. Cards to send to co-workers! The card rack is awesome!
---