All Customer Reviews For YCHL402BLK
---
Ballot Boxes
This company is amazing and I will certainly order from them again. We ordered two of the metal boxes for our church. One was perfect, but the other one had an issue with the door closing correctly. They immediately fixed the problem and were so engaged in getting the problem fixed I was amazed! Great company with great customer service!
---
---
---
---
---
---
Well Pleased
Happy with this product. We now have a total of four.
---
Donation Stand
This slim, sharp-looking donation box is perfect for our museum. We attached an 8.5" x 11" acrylic magnetic sign holder to the front, and it looks great!
---
Not the best option
We have a different style of ballot box from Displays2Go, but did not like it because you have to get on the floor to get the contents. This one we have had envelopes sticking out of a few of them, which is very disappointing because we use these to collect offering. Also, one of the boxes came with none of the hardware.
---
Metal Ballot Box
Bought this to put offering in for our church! Works great! Thanks for a great product!
---
Love the produce but backorder is more like 3+ months
I ordered 4 of these in June. It said it was backordered and it would be in in about 30 days. I picked to ship as they became available. I received one in about 14 days. It is September and I am still waiting on the other 3. I have been in contact with them. In July they said it would be about 2 more weeks. Now they are saying they are checking with the warehouse. I love the product, but I would wait until they have them in before ordering because the 30 days backorder has not true in my case.
---
Simple, well built
This box is very simple and works well. It is sturdy and clean looking. I would recommend some sort of packaging/case if you are moving it from location to location so you don't scratch it.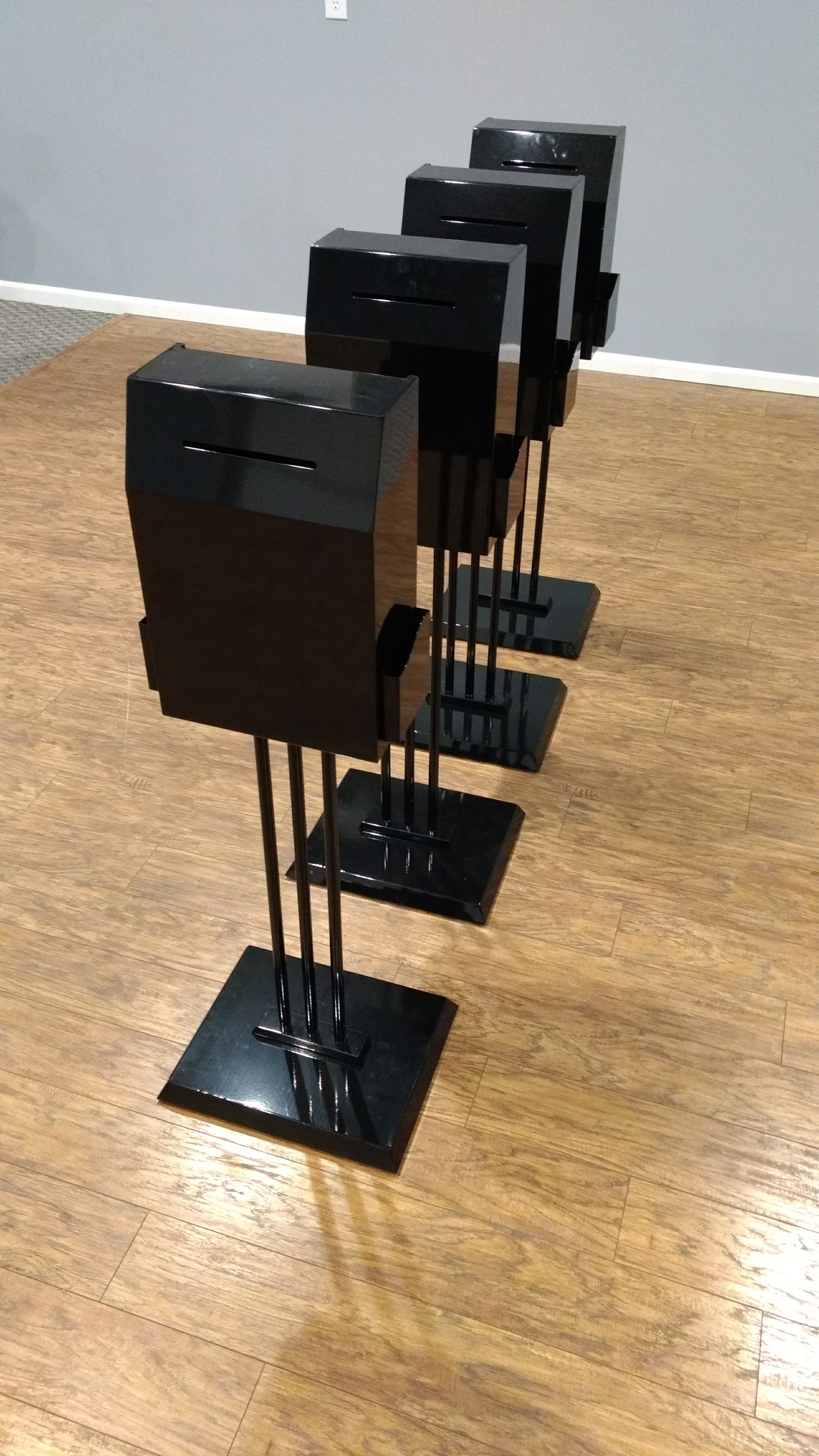 ---
---
Great Product - Packing could use work
We are so excited to have these on our campus. They came in extremely quick - 2 days from date of order to arrival. Construction was easy and the instructions were clear. The only place for improvement from Displays 2 Go is the quality of the packing. Everything was solidly packed, except for the hardware baggy. That was packed in the largest outer box, and one of our packages found it broken open and we lost a few washers out of the creases in the box. Luckily we had some spares floating around to replace them, but it would be nice if Displays to Go sealed the hardware bag just a little bit more effectively. Overall, though, great product, great customer service, and great shipping speed!
---
Secretary
The Metal Mailboxes came in very quickly. They exceeded our expectations. Only one was damaged and the replacement is on the way. Very happy with the customer service. Thank you
---