Text Headers
General Text Reproduction Information:
The header is made from aluminum with an acrylic lens. The vinyl letters are then put onto the acrylic lens.
The font style for each of the customizable headers is Helvetica Bold and the color is black.
Horizontal and vertical positioning is centered only.
Note: Failing to follow these guidelines will result in a delay of shipping and/or will incur additional charges.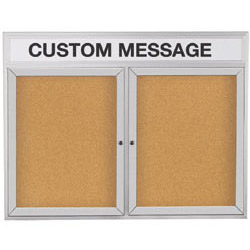 Text Titles & Phrases
Please fax the following to 401-247-0392 or include in the "Special Notes" section of our order form.
Your text title or phrase (Less text means larger fonts)
Specify if you would like to use upper or lower case letters
Vertical positioning on graphic area (i.e. 1" up from the bottom to the baseline of the text)
Additional notes:

Characters are 2-1/2" tall. If writing needs to be done on 2 lines, the overall height is 3".
Headers cannot be replaced. The text header ships installed in the unit, and cannot be removed or replaced
****Delivery lead time starts AFTER artwork has been approved****
For more information or questions please contact info@displays2go.com