Create Your Own Custom Printed Table Covers with our Designer Tool!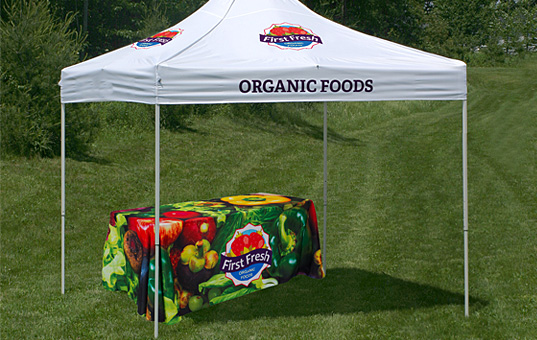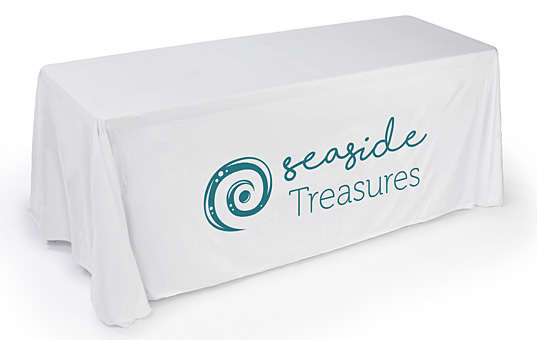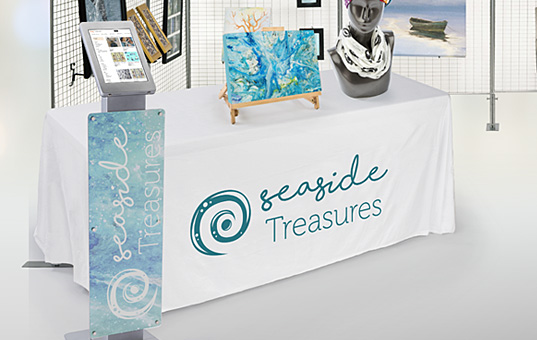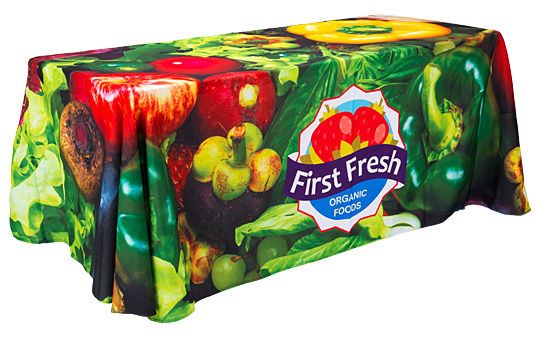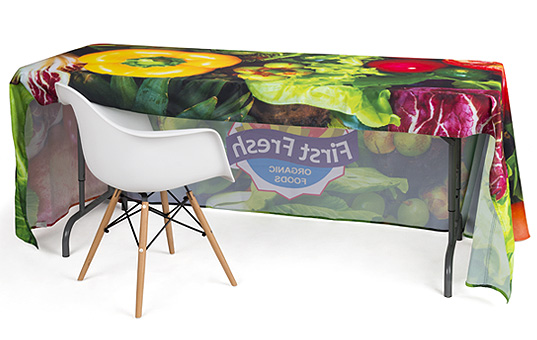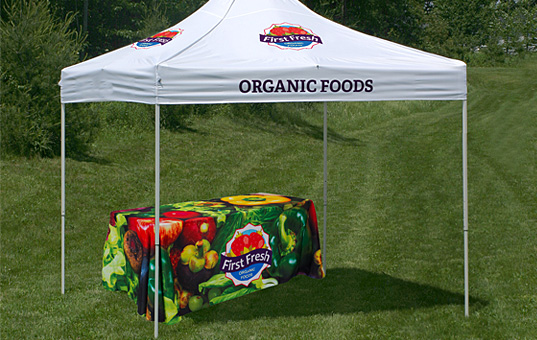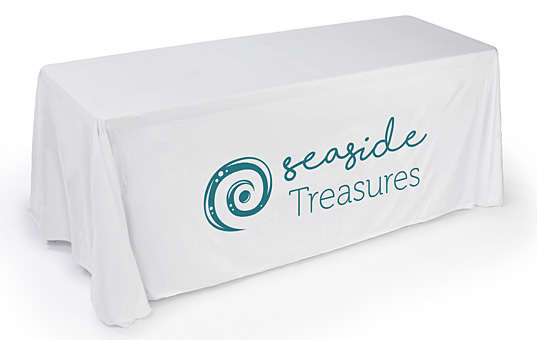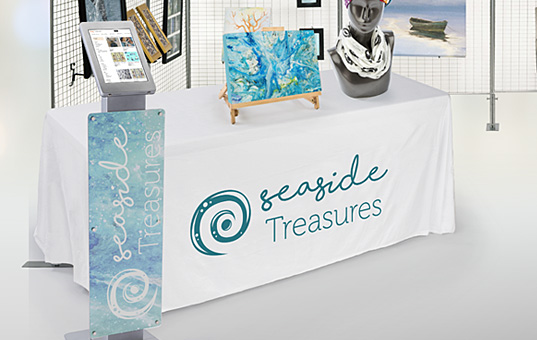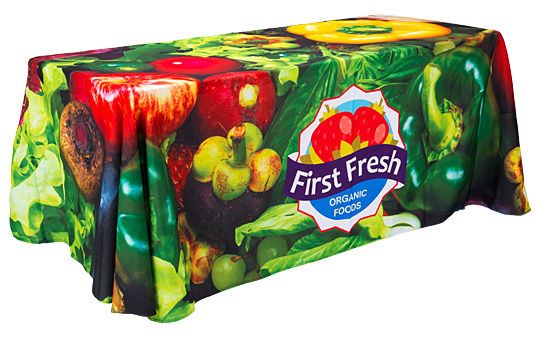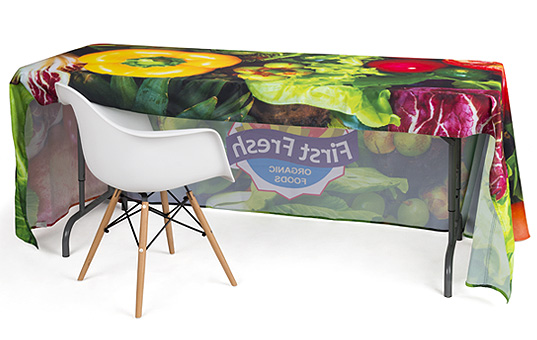 Custom Printed Table Covers
Traditional Draped Throws
Full-Color Dye Sublimated Printing
Wrinkle-Resistant Polyester Fabric
Choose Open or Closed Back
3 Table Sizes: 4, 6, and 8 Foot
Flame Retardant for Trade Show Compliance
Starting at $149.00
Start Designing
---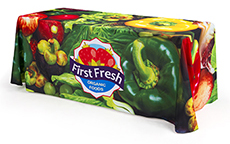 Full Color Printed Table Throws with Customized Promotional Graphics
Need to feature your company's graphics at a trade show? Our custom tablecloths with dye sublimation printing are the perfect solution. Each customized table cover is made to feature your images in vivid full color that will not peel or fade.

Personalized booth accessories are great for promotional events, job fairs, art festivals, and school functions. Use our custom tablecloths with vibrant dye sublimation printing to feature personalized brand messaging and artwork for an effective presentation.
---
Tips for Best Results Designing your Table Covering
2D and 3D Views
Design your cover in a 2D, flattened layout and click the "Preview" button to see your design rendered in a 3D image. It's important to note that the orientation of text when placed in the 2D layout may look different when in 3D view. Check the 3D Back view to see how text will appear on the back of your runner.
Safe Areas
Keep important text or images clear of the fabric edges, so they are clearly visible when the fabric drapes over a table. Text and images usually look best centered within a designated area.
Helpful Information
The Designer guidelines, shown as grey dashed lines in the 2D view, will not print on your table cover. Also, colors and graphics will appear crisp and bright on one side of the fabric only. The back of each printed cloth will show a screened, reversed view of the front graphics.
---
Customized Table Cover Options
Open back style allows for chairs to be easily placed underneath the table.
Closed back style provides full coverage all around the table.
Cloth and Text Colors can be selected from the Designer's pre-loaded options, or choose your own custom color.
Upload your own images that can be used simply as a front logo or stretched to cover the entire cloth.
Add text within the Designer for convenience.
Sizes available fit standard 4', 6', or 8' tables.
Rounded corners drape elegantly for a professional display.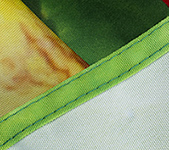 Tablecloth Fabric and Finishing
The table covers are made from premium 10oz, wrinkle-resistant polyester fabric.

The edges are finished with a folded and sewn hem which provides a clean professional look.

This material is flame retardant for safety.
---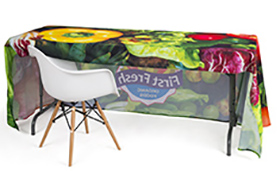 Care and Cleaning for Custom Printed Tablecloths
These customized full color table covers are very durable and machine washable without any damage to the graphic. Simply machine wash with cold water and tumble dry on low or line dry.

If needed, iron on a low setting on the unprinted side of the fabric, or use a hand-held steamer. The table covers are safe to dry clean if desired.
Where to Use a Custom Table Cover
Trade shows
Promotional events
Farmers' markets
Food tastings
Job fairs
Hospitality functions
Conferences
Craft fairs & art festivals
Educational events, school & university functions
Church functions
---
What is Dye-Sublimation Printing?
Custom tablecloths with dye sublimation printing are known for producing vivid colors. This is because the ink is absorbed by the white fabric, making different tones highly visible. These custom tablecloths also feature high image quality, comparable to photographs. The process uses continuous tones, rather than halftones used in digital imprinting where basic colors are mixed to simulate others. Dye sub printing for custom tablecloths creates long lasting images that are great for travelling.
Tablecloths with dye sub printing are the best option for companies looking to feature their vibrant designs, logos, and artwork. Not only are graphics more colorful than ones made with other processes, but they can cover more area and even last longer.
---
Table Cover Dimensions
Overall (w x h)
Top (w x h)
Front (w x h)
Left (w x h)
Right (w x h)
Back (w x h)
4' Open Back
(#: 3S4CPDS)
106" x 59"
48" x 24"
48" x 29"
29" x 24"
29" x 24"
48" x 6"
6' Open Back
(#: 3S6CPDS)
130" x 65"
72" x 30"
72" x 29"
29" x 30"
29" x 30"
72" x 6"
8' Open Back
(#: 3S8CPDS)
154" x 65"
96" x 30"
96" x 29"
29" x 30"
29" x 30"
96" x 6"
4' Closed Back
(#: RC4CPDS)
106" x 82"
48" x 24"
48" x 29"
29" x 24"
29" x 24"
48" x 29"
6' Closed Back
(#: RC6CPDS)
130" x 88"
72" x 30"
72" x 29"
29" x 30"
29" x 30"
72" x 29"
8' Closed Back
(#: RC8CPDS)
154" x 88"
96" x 30"
96" x 29"
29" x 30"
29" x 30"
96" x 29"