20x30 Poster Frames with Custom Graphic Inserts for Wall-Mounted Promotions
---
Promotional 20 x 30 Poster Frames for Custom Printed Advertisements & Artwork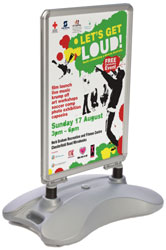 Are you looking for a way to not only protect, but to professionally showcase your markeitin and advertisement graphics in high-traffic public settings? Our 20" x 30" poster frames are designed for both durability and style in customer-facing environments; featuring sturdy aluminum, steel, or acrylic frames that balance functionality and appeal. This collection of prootional graphic frames has just what you need to amplify the quality of your retail, cinema, or convention advertisement displays. Whether you need a free-standing floor stand or a wall mounted design, there is a 20" x 30" poster frame that is perfect to suit your individual needs. Many of the frames are equipped with quick-load technology. Choose from slide-in, front-loading, and sign standoff mounted configurations. Every application can be accommodated no problem! There are tons of options with regard to material as well. The 20 x 30 frames come in wooden, acrylic, aluminum, and cheap plastic styles.
How do These Wall-Mounted Frames Assist Promotional Campaigns?
Movie thearters, cinemas, and and specialty memorabilia shops all love these 20" x 30" poster frames as a way to showcase rare, limited-time, or collectable movie posters. For fil fanatics, there is no greater find than coming across a vintange or original promotional graphic from a flick with a cult following. Show off your businesses prized wares, or even just scatter wall-mounted poster holders throughout the store to add to your decor.
Retail stores often have seasonal promotions, with graphic content swapping out on a monthly, sometimes even weekly basis. As such, they need poster frames that make it easy to change out promotional material on-the-fly and as simply as possible. Many of our displays feature snap-open designs, removing the need to fuss with additional hardware.
Sometimes avid collectors dedicate entire rooms of their home to their favorite film, franchise, or genre. Pinning posters to the wall not only damages your prized collectors items, but can also damage walls or chip paint, which every home owner tries to avoid. Take care of your nostalgic graphics with these 20" x 30" poster frames.
Setting up an alluring graphic presentation has never been this easy. Several different displays can be used in conjunction to achieve a professional look. Functionality is yet another area where these framing systems succeed. Not only are they easy to set up and hang on walls, but also they allow for quick graphic updates. Snap open edges and convenient slide-in models are some of the most popular choices, but to get a real understanding of the various options you really have to browse the online catalog. Take advantage of excellent deals, quality, and customer service at Displays2Go.com today!