Acrylic Magazine Holder Wall Mounts with Single & Multi-Pocket Options
---
Plastic Magazine Wall Racks Display Publications and Pamphlets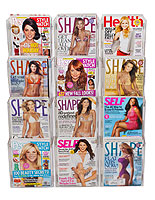 Looking to buy affordable organizers that house a variety of literature? Acrylic magazine holder wall mounts are designed to hold many print sizes. They feature pockets that are either fixed or come with adjustable dividers for an even more customizable display. Each compartment is deep enough to hold several catalogs depending on the thickness of the publications. Magazine holder wall mounts with multiple slots are built to save space, time, and money. Another benefit to these literature racks is their clear design which allows easy recognition of titles. Users can choose from clear or black models that are manufactured from heavy-duty acrylic or injection-molded plastic. Our magazine holder wall mounts are not only great for displaying publications, but they can also be used as a filing system in an office environment. Instead of cluttering tables and desks, clerks use them to keep files and documents neatly organized, ordered, and easily accessible.
What other types of locations or establishments utilize acrylic magazine holder wall mounts?
Bank lobbies, accounting firms, or insurance offices often leave literature in their waiting rooms to entertain guests while waiting for an appointment in leu of other digital mediums such as electronic signage or televisions.
Car dealerships and exhibition rooms use these acrylic magazine holders to showcase their latest product lines, key features, services, and benefits of choosing their company. Many businesses will prompt potential customers to take pamphlets or magazines home with them to review later, encouraging return business.
Medical waiting rooms or receptionist areas offer up-front perscription information in many offices, sending patients home with pertinent information regarding their illness. Many of these locations will also use our acrylic magazine holders to store patient files, reports, and other information within arms reach.
Travel and tourist centers love to entice potential customers planning their next trip with travel magazines, brochures, and pamphlets. Leaving an acrylic magazine holder in the waiting room can get customer's imaginations running as they flip through every page and are more ready to discuss travel plans once speaking with an employee.
Single pocket styles are great for displaying one stack of the same catalogs or brochures. Models with two or three tiers come with fixed slots or convenient dividers for accommodating differently sized literature. Modular that connect to each other offer the greatest amount of display area. Multiple units can be connected and extended down a stretch of a wall if needed.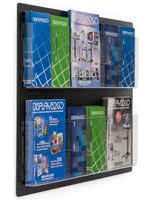 Why should businesses choose a hanging magazine display rack?
Wall-mount stackable design significantly reduces countertop or floor spaces.
Easy to view — all the publication front covers are displayed with the clear finish pocket.
Changeable viewing style — publications can be displayed full or half-view.
Features notched pockets for easy access to the magazines.
Why are these multi-tier literature holders ideal for such a diverse array of organizations? Each rack has a design that incorporates versatility, functionality, and affordability. The pockets are either vertically or horizontally stacked with a tiered arrangement to save space. Sturdy and light, multi-tier hanging systems can be mounted just about anywhere for the greatest impact especially for places where floor space is a concern. On top of all the countless benefits mentioned above, most offerings include a pre-drilled bracket to facilitate hanging. Screws and anchors are also provided for easy installation. If you're looking for options in addition to acrylic, we offer a huge selection of wood finished hanging and floor standing literature displays for commercial environments. Choose from hundreds of different designs and configurations. No matter what type of product you choose, your business will love these great organizational tools.