Posted on 27, April, 2021
Last Modified on 25, August, 2023
Whether you are a seasoned exhibitor or your business is attending its debut show, the beginning of trade show season is a great time to evaluate your bottom line and the effectiveness of your display. While planning for any event, take some time to note your goals and set up a proper framework to measure, maximize, and report on your overall return on investment (ROI). There is no worse feeling than putting in the countless hours and energy needed to pull off a successful exhibit just for it to fall short of your expectations. Thankfully, there is much that you can do before the show to all but guarantee that you will leave confident that your time was well spent. By focusing on aligning your organizational goals with trade show objectives, tracking event-day metrics, and maximizing your ROI by reducing waste and creating focused displays, you can be sure to come out ahead.
What are the 5 Key Metrics to Measuring Trade Show ROI?
1. The number of strategic meetings
2. Influenced revenue
3. Average deal size
4. Resource utilization
5. Meeting effectiveness
Ask yourself: "Does my handmade curtain business need a 55" television or interactive kiosk to best showcase how my product will look while it's actually being used?" Alright, that may be an extreme example, but the point stands that sometimes exhibits with all of the bells and whistles don't necessarily reflect the business they are promoting in the best way possible. First and foremost, work on creating focused, results-oriented booth experiences which showcase the strengths of your product or service without the extra fluff and build on that foundation thereafter. A great way to take this challenge on is by using SMART goals to break down your business' individual needs and lay out achievable results.
What are the 5 SMART Goals?
Specific (simple, sensible, significant)
Measurable (meaningful, motivating)
Achievable (agreed, attainable)
Relevant (reasonable, realistic and resourced, results-based)
Time bound (time-based, time limited, time/cost limited, timely, time-sensitive)
While deciding what you need for a particular exhibit, ask your team if their plans are specific and relevant to your niche or if there are elements that don't quite jive with your company vision. Lay out ways to measure the effectiveness of meetings, manage foot traffic, or track leads in a timely manner to gauge whether or not the bar your set is achievable in the time frame the event allows. Ensure that your sales team is reporting revenue from the exhibit and comparing it to the total cost of the show (exhibit space, booth, travel, hotels, food, etc.).

This process will get easier as time goes on, as you attend more events, and as you get a better handle on how many leads can be expected per show. You should already have a roundabout idea of how much revenue a given lead should earn you. Another great formula determines your cost per lead by taking your overall cost and dividing it by the number of leads gathered.

What Are You Looking to Spend?
Take a budget-first approach to planning your next trade show booth. Whether you are starting small or looking to add to your existing toolkit, we have options that work around your budget.
1. The Number of Strategic Meetings
Your time at any event is limited. Even more so, the available time of your potential leads is even more sparsely allocated. While your main mission is to manage one booth for several hours, the goal for many trade show attendees is to experience as many exhibits as possible with what little time they have and then revisit any in particular that stood out. As such, expect that the casual passersby are often not willing to spend hours in one location. Attention spans are short, missions are focused, and if you want to maximize the number of meetings your booth can handle, it is vital to cater to the crowd by streamlining your presentations to be easily digestible and memorable.
One way to increase revenue and influence the top line is by preparing and scheduling meetings and demos before the show by reaching out to your network on social media platforms and booking accordingly. While your booth should be able to handle the comings and goings of curious trade show attendees, there should be a large focus on increasing the number of pre-planned meetings acquired through newsletters, social feeds, or by simply informing existing leads that you will be attending the event and asking them to attend as well. At the end of the day, the number of meetings directly correlates to the amount of leads brought in, and therefore, the potential revenue earned.
2. Influenced Revenue
Strategic meetings at a trade show event help build trust, brand awareness, and confidence in your product. By maximizing the number of these demos, your employees become more efficient at closing sales, delivering quality social interactions, creating a well-informed customer base. Maintaining existing clientele and acquiring new customers is a result of trust, first and foremost, which boils down to your customer experience management on all platforms both digital and real-world. Each of these meetings builds a larger, more stable foundation from which your sales team can bring in new customers and reliably deliver results-based solutions to the end-user.
A key metric to follow is the amount of revenue generated per meeting for each of your events, which helps set a measurable target for future trade shows. For new customers, track how they heard about your company, if they have met with you in the past and where, and what that experience was like for them. Use that newfound data to better inform decisions, planning, and goal implementations for your next exhibit.

3. Average Deal Size
Keep your industry or niche in mind when setting goals for the amount of meetings or closed deals you aim to achieve over a particular event. For high-ticket products or services, a team may only need to finalize a handful of sales per day or per trade show in order to come out on top, while for others it may take dozens or hundreds. In order to meet your revenue targets, break down your average deal size in addition to your cost per lead. We would venture to say if a lead cost you $150, yet earned you $2,000, then that was time and money well spent.
To maximize revenue and increase deal size, it might sound appealing to focus your presentations on facilitating larger contracts, but that comes with its own risks, such as taking longer to close or a client backing out. On the other hand, closing multiple low-end sales may consume the majority of your sales team's time and energy. Avoid focusing your marketing efforts, meeting slots, and personnel in a direction that does not reflect your typical clientele. Take close note of the average deal size and cater your exhibit's experience to serving that customer base for best results.
4. Resource Utilization
There are some unavoidable expenses in any trade show budget, such as meeting spaces, booths, and travel.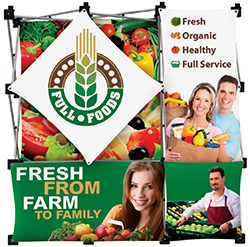 However, experienced exhibitors will pay close attention to their needs for each particular event, taking note that there is no one-size-fits-all solution. Keep in mind that just because your company owns $20,000 in trade show equipment does not mean that they have to utilize every piece for every event. Cut cost by strategically planning to cater to the expected turnout of a given show, the size of your booth, and your primary sales objectives. For some events, your company will want to go wide, taking up as much visual real estate as possible and pulling out all the stops to attract the most attention. For others, your business will want to have a more intimate sales experience with a primary focus on closing sales on pre-booked strategic meetings while fielding whatever walk-in interest or ad-hoc meetings naturally comes your way.
Remember that customers build relationships with companies based on trust, so it is vital to put your best team forward. Businesses who send their C-suite executives and decision makers to handle questions on the sales floor find a much easier time closing sales due to the presence of an authority figure within the company — something that reassures the consumer on the spot. On the other side of that spectrum, staffing your booth with a traditional sales team may lead to a wider net being cast but require more follow-up calls post-event to chase down leads. Take a deep look at which areas of your budget can be reduced in order to improve on other revenue-generating aspects and provide insights on where future investments should be made to facilitate growth.
5. Meeting Effectiveness
Anyone can book a day full of meetings, but what really matters is whether or not you convert those opportunities into sales. Keep a close eye on how many meetings, or even seemingly casual conversations, your team has on each day of a trade show and determine your conversion percentage. Trade show sales metric data suggest that most businesses should aim for above a 30% conversion rate, while anything under 20% leaves room for improvement. By identifying if your team is converting sales during the event, you can more readily adapt your approach and improve your meeting effectiveness. Of course, a large part of this relies on the overarching goals of each encounter, which may not always drive a lead toward making a purchase or signing an agreement.
Either work closely with your executive team, or as an executive team member, develop acceptable margins for each event. Reporting can be broken down on a granular level to pinpoint top-performing sales team members or identify areas where growth is needed. Companies who succeed at trade shows take the time to reflect on their findings, train their team accordingly, and set out with new goals each event.
Do You Want to be A #TradeShowOff?
Upload
#displays2go
Check out how our customers are standing out at shows, both big and small, across the nation. Upload an image with a product review or tag us on social media using #TradeShowOff for a chance to show off your Displays2go Trade Show setup.