Tabletop Exhibit Displays for Portable Presentations
---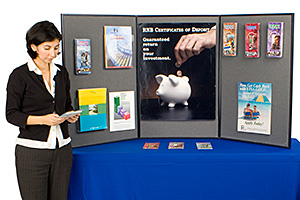 Tabletop Trade Show Fixtures Outfit Exhibits with Professional Displays & Custom Printed Panels
One of the biggest problems at trade shows is figuring out how to make a strong, lasting, impression on guest and capture the attention of passersby who might overlook your exhibit. Tabletop exhibit displays demand attention by giving you the freedom to accessorize a multi-panel fabric board or go big with customizable graphic panels. Customized fixtures like these work well in the trenches of fast-paced business environments. Salespeople use tabletop exhibit displays such as table throws, panel displays, and retractable banners stands as visual tools to send a decisive message to customers that explain what they can offer. By providing patrons with a vibrant, highly-visible display, products begin to sell themselves before an introduction is even made!
Forget the large perimeter booth structures offering free trinkets and candy; tabletop exhibit displays bridge the gap between attendee and exhibitor where it matters most. The opportunity to interact and earn facetime with potential customers is the most valued aspect of trade shows, job fairs, and other public events. Having a quality booth presentation can make or break an event, so outfitting your trade show booth for success is perhaps as essential as the product itself. With the right tools in your arsenal, selling your services to people not only professionally but persuasively can make a huge difference in how they perceive your company.
These portable exhibit displays dress up tables on any trade show floor. For a complete look, take advantage of plain or custom table skirts and coverings to create a sleek, professional, appearance in seconds. Utilize folding fabric boards to easily post reading material, brochures, and infographics with a hook and loop system. Our multi-panel stretch graphic displays are a great customized option to use as a backdrop to your booth to increase brand awareness.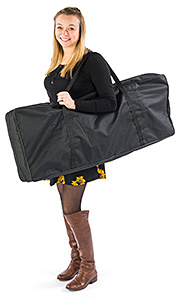 What products will best help outfit my exhibit display?
When it comes to cohesive branding, it helps to capitalize on every opportunity. Help build your brand's trade show booth from the ground up with custom printed table covers and runners made from a machine washable spandex-polyester material that stretches to fit most 4' – 8' folding tables. We even offer cocktail table covers that enhance the ambiance of any upscale event. While we do offer table covers in solid colors, why not increase your business' brand exposure with custom printing?
For informational events such as conferences or trade shows, use folding fabric presentation boards to highlight key service features. Fold-up cardboard versions meant for school science projects are a thing of the past. These are quality display boards that feature fabric-covered panels inside sturdy plastic frames. Panels are hinged together for better durability and set up in seconds. We carry a number of different designs including double-sided fabric boards, dry erase panels, and optional illuminating spotlights.
We offer single and multi-panel graphic displays that feature custom-printed stretch fabric on either straight or curved frames. Single panel fixtures are designed to fit on any standard 8' folding table. The tension fabric stretches over the aluminum framing, providing a smooth and seamless presentation.Modular 3-D multi-panel pop up displays are built from a collapsible aluminum frame with anywhere from three to nine stretch fabric geographic shapes. Each model comes fully printed with custom graphics and messaging, perfect for a flexible mix of branding and advertising. The printed tension cloth is outfitted with reinforced slits that hook onto the corner buttons of the panels, allowing the modular fixtures to feature any arrangement of graphics, messaging, brand logos, or advertisements. Exploit these three-dimensional modular designs to create a one-of-a-kind exhibit at your next trade show.
A dynamic, marketable, display is an essential part of any presentation, but having a solid base for which they can stand is equally as important. Portable trade show event tables play an integral role within the booth environment. We carry a large selection of standard folding styles like the ones shown supporting these table displays. Some feature height adjustable poles and locking enclosures for electronic tablets, a customer favorite.
Outfitting your trade show booth for success is the best way to attract attention to your exhibit. By creating attention-grabbing displays, potential customers can be informed and eager to talk about your product before a conversation even begins. Promoting your brand can be difficult, especially managing a floor and multiple people at once. Why not let a powerfully engaging set up do the job for you with the help of vibrant graphics and well placed branding?