Posted on 12, June, 2015
Last Modified on 28, February, 2023
For restaurants that have a subpar outdoor dining area or don't have one at all, it can be an instant loss of customers or even a poor Yelp review. That's why restaurateurs are getting creative with designing and choosing their restaurant's outdoor seating options. Whether you have a backyard patio or a strip of sidewalk, you can turn your outdoor space into a source of income for your business. Offering outdoor seating opens up new avenues of revenue and opportunity for a restaurant. If you're looking to create a perfect restaurant patio, here are some tips on how to get started.
1. Check Your Local Laws & Permits
Every state and municipality has different laws on what restaurants can serve, how they can serve it, when they can serve it, and where they can serve it. Some local laws prohibit outdoor bars while others require partitions or café barriers around sidewalk seating.
Educating yourself on local laws and obtaining permits sounds about as appetizing as a spam and prune salad, but it's a crucial part of the process. Punishments violating local laws and not having proper permits can range from a citation to fines or even closure. Before you start building your outdoor patio, research your local laws and be sure to obtain the proper permits.
2. Strategize Your Seating Plan
Your gut reaction may be to cram as many tables and chairs into your restaurant patio as you can. After all, more tables means more customers and more revenue, right? Not necessarily.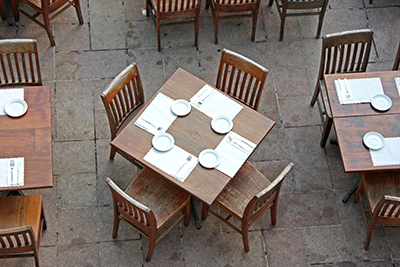 Before expanding any seating area (indoors or outdoors), make sure your staff and kitchen can handle it. With the added seating, your servers may be putting more steps in on their Fitbits while your kitchen may be struggling to keep up with the lunchtime rush. If necessary, hire more help or expand your kitchen to accommodate the growth.
Even if your restaurant staff can comfortably squeeze another twelve tables into their workload, those twelve tables may not fit so comfortably on your patio. Make sure you have ample space between tables and chairs for both servers and guests to maneuver through your restaurant's outdoor seating struggle free.
3. Find Appropriate Furniture
While it may seem like the easy and economical solution, do not reuse your interior table and chairs for your patio. Your restaurant's outdoor dining space needs furniture made of durable materials that can hold up to the wear and tear of the outdoors. Look for furniture that's weatherproof and easy to clean. If space and storage is an issue, opt for stackable chairs.
Additionally, make sure your patio furniture jives with your restaurant's décor and atmosphere. Having appropriate furniture that is well maintained is just as important for operations as it is for your restaurant's image. In other words, if you run a high-end restaurant, you may want to reconsider outfitting your patio with foldable plastic chairs - or at the very least fashion them with stylish covers.
4. Set Up Outdoor Lighting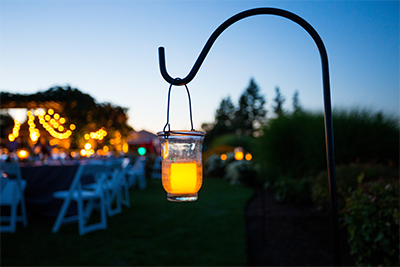 Unless you possess some mystical ability to conjure sunlight, you'll need lighting for your patio if it stays open after sunset. Tea lights, Chinese lanterns, string lights, fairy lights, tiki torches, candles, etc. are great options for lighting and also help with your patio's ambience.
5. Prepare for the Elements
When serving outdoors, you have to be prepared for whatever Mother Nature has in store. From ways to keep bugs away to giving your patio some shade to keeping your diners warm, read our tips and tricks for protecting your restaurant patio area from the elements.
6. Advertise & Promote
Unlike sidewalk seating, outdoor dining areas like patios, decks, and rooftops are not as easily seen by passersby. Grab the attention of prospective diners with attractive signage, lighting, and décor to highlight your outdoor seating options. Take your awareness campaign to social media, too: post your daily specials and even pictures of your restaurant patio to boost your customer base.
The Final Touches
Good restaurant patios have these basics and essentials mastered, but great restaurant patios take it a step further. Give your outdoor seating a personal touch to distinguish yourself in the market. Enhance your diners' experience with food and bar specials, live music, yard games, outdoor grill, etc. A restaurant patio that's well planned, unique, and full of character can quickly turn those one-time customers into regulars and boost profitability.