Posted on 03, March, 2018
Last Modified on 01, March, 2023
Shop Products from This Article
It's no mistake that that big red cola company is a household name. Nearly everywhere you go, in every town, on every continent, you'll stumble across and absorb some medium of their advertising. Instantly identifiable, with perfect white script letters on an iconic tomato red background, theirs is a brand that has deeply imprinted on the collective mind of Planet Earth.
Coca-Cola™ is a master at unabashedly slapping their name across every surface, substrate and structure they can get their hands on. Their brand is so ubiquitous that consumers young and old can pick out the brand as if by osmosis in the face of their slogans, audio, and taste, but above all — their logo. With an all-pervading presence that is acutely a part of our global culture, even old Coke™ signage and branded items are considered highly collectible, highly relevant and often expensive antiques.
The point is, they're winning. But so can you.
In this article, we'll focus on taking every opportunity for your brand to penetrate the minds and memories of potential clients specifically at trade shows, coventions and business events. When you're representing who you are, it's paramount to create an effective and powerful visual presence that won't be forgotten. With new commoditized printing capabilities and emerging technologies, the opportunities are virtually limitless in 2018.
Graphics, Graphics, Graphics!
You may have a voice in the back of your head telling you that too much branding is obnoxious or a deterrent for potential clients. Don't listen to it. Trade events are designed for you to put yourself on a platform. A visually loud and graphically pervasive platform. If you're intimidated by the idea of shameless self promotion, shake it. Put your alter-ego on and slap your logo on everything… mindfully. You don't want to appear cluttered, but you do want to say "Look at me! Look at me!" This is the probably one of the only arenas in your life where that kind of stuff will fly. Channel it, Veruca. Own it.
When we think about what "brand" truly means, it's an awful lot more than just your logo; it's the essence of who you are. Your brand is how you conduct your business, what you offer to your customers, what they expect from you and how they perceive you. All of these facets are developed and honed over time with careful attention and guidance.
One way you can represent some of these guiding principles is through the impact of visuals. Branding your trade show or event booth with crisp, high resolution graphics is a powerful gesture that just might make the difference between the show attendees taking notice of your booth and business over your competitor in the next row.
Backwalls and Panels
Don't just brand your backdrop wall with your logo alone. With the truly supernatural printing services available today, you can print a scene so crisp you'll feel like you're standing in the middle of the image that's printed on your booth panels. Backdrop walls are available and more accessible than ever in vibrant illuminated SEG configurations, stretch fabric wall covers infused with rich colors via dye sublimation and unbelievably clear images on vinyl with the UV printing process.
Retractable Banners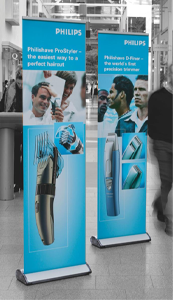 Like backwalls, retractable banner stands are an excellent portable branding solution for your booth. Attractive and easy-to-use, they are one of the most common promotional signage products you can find in both retail and exhibit spaces. The vinyl or fabric graphic panels are conveniently housed inside the base, making set-up and transport a breeze. Graphics are digitally printed directly on the banner's surface in full-bleed color, and can be either single- or double-sided with messaging that pops. While you'll usually see larger banners placed on the floor at the front of the booth, you can also find smaller sizes for impressive countertop displays to complement your company's offerings.
Table Covers
You're likely to have a folding table or two set up in your space. Make sure to have your logo printed on there. If not just your logo, a whole graphic. Stretch table covers, table skirts, and table runners can be printed with super visible, extra vibrant graphics and can help reinforce your brand as well as maintain a professional booth appearance. Even if you haven't had an exhibit at a trade show before, you'll want to appear organized and as if you know the ropes... and everyone has a table cover.
iPad Kiosks with Printing
Sure you could just leave the iPad kiosk you brought to the show plain black or plain white, but why do that when you can add branded panels or even print directly on the enclosure. Remember… the goal is to penetrate the minds of your clients always, in all ways. You can even add a powerful CTA to your tablet enclosure like "Sign Up Here" or "Check This Out", to generate email leads or get customers engaging with your multimedia content.
Portable Counters with Custom Graphics
You need something to stand behind anyway - why not grab a portable counter? Many of which double as a travel case for some of your booth essentials. During the show, a custom printed counter can serve double duty with shelves for holding your staff's stuff and by playing brand ambassador with a large printed surface that shows you off. If you don't need the extra storage, you can also opt for a fully-wrapped counter display with 360° of stretch graphics like our inflatable event counters which pack flat and inflate to reveal a bright, backlit display.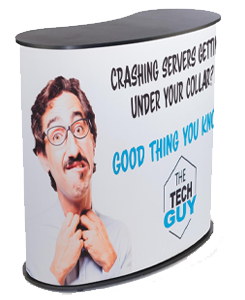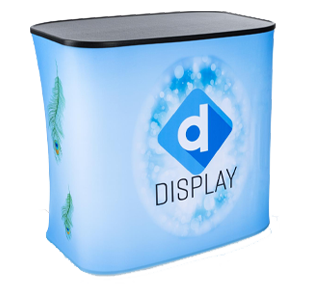 Floor Decals
Where do people look when they walk? Down. To the floor. Despite years of nagging parents telling us all to "watch where you're going!" You've got to use this wide-open real estate to your advantage. Floor decals are a great way to lead patrons directly to your booth with branded graphics, your logo and even a wayfinding message like say... "This way to the fun booth". Floor stickers come in various stock messages or you can have floor decals completely customized and printed with your graphics. You're going to need to be smart with your branding and messaging from every angle. Of course, you'll want to be sure that the use of floor signs is permitted within the event rules and regulations.

Digital Literature Holders
It's not all about print - you need a digital presence too. With a digital catalog holder you're giving yourself a little extra insurance that a customer will leave the show with your print marketing in hand. These multi-tools do the job of a sales associate without needing another body to man your booth. Get showgoers' attention with enticing multimedia stories playing on the monitor, offer free pamphlets or product catalogs, and make sure yours is the name they remember when they leave the trade show floor.
Digital Literature Holders
Don't Be Shy
Remember, this is your stage. Don't be afraid to get a little bold with your marketing tactics during big events. Getting attention is the name of the game and it's hard to do that without announcing who you are loud enough for everyone to hear. In this case, with visuals. Good luck out there. You've got this.
Oh! And just a little shameless self-plug from us… Displays2go has all of the trade show displays shown here and more. Check us out for even more booth inspiration! We have your back.