Posted on 21, April, 2020
Last Modified on 03, November, 2020
Shop Products from This Article
From Storefront to Web Browser; Here's How to Get Started to Sell Online
Times are changing, and while many mom-and-pop or other brick-and-mortar storefronts have steadily been building their presence online, recent global health concerns have all but forced these businesses to close their doors or operate exclusively through their web page. While some store owners were lucky enough to have a pre-established infrastructure to support this shift in focus, others are scrambling to build their website for the first time by photographing their products, running ads, and figuring out how to get found in the digital landscape.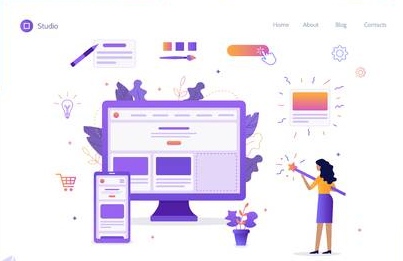 It can be hard to get a plan together. However, Displays2go has years of experience supplying business owners with the tools they need to professionally prepare your storefront to do business online. Here's how to get started:
Laying the Foundation: Creating your Digital Storefront
Before you worry about photographing your products and posting them, it's important to have a presentable platform to showcase them on. Think of your website as a digital storefront that should match style and mood of what you are selling - after all, you would be hard-pressed to purchase anything from a physical store where all the products were unorganized, strewn across the floor with no display fixtures, or even falsely advertised. Your web page should also be modern and responsive, meaning that it is adaptable to various screen sizes, and shouldn't look like it was made in the 1990s. There are plenty of inexpensive monthly services that your business can take advantage of to lay down the groundwork to your initial success and loads of free-template options to spruce up that home page at no cost.
Disclaimer: We are not affiliated with the below-mentioned website & e-commerce services. They are simply professional recommendations to get things up and running smoothly for your business.
What services are best for setting up an online store?
Wix: This service is perhaps the easiest to set up and get going from scratch. It will provide you with ample drag-and-drop options to build your site that is broken down in a way that even the non-computer savvy can understand easily. While this will be the easiest to get you up and running, there are limitations to the edits you can make after publishing your site. We recommend Wix if you have limited time and want to launch something modern and presentable as soon as possible.
Shopify: As one of the leading e-commerce website providers, Shopify's platform is an all-in-one tool that can handle marketing, product uploads, theme customization, and integration with industry-leading applications. While their price point is competitive in the market, extra costs can come from adding additional apps and services to your site beyond the free versions. Code-oriented customization beyond what they provide can be a bit of a learning process as well, however, it's rare an average user will need to make those kinds of edits. Use Shopify if you want to quickly create a website to effectively have your entire store accessible via one streamlined platform that will be well worth your time.
How can Displays2go Help You Get Your Product Catalog Online?
There is a big difference between showcasing a product on a shelf in-store, and presenting it properly for an online audience. You should primarily focus on taking high-quality images in a well-lit area, ideally using a ring light. The best practice is to take your product images against an all-white background to isolate the item for your customer, however, there are niches where environments are the norm. Regardless of the setting, it is vital to present you, customer, with responsive HD images that can easily be viewed on smartphones, tablets, and desktops alike. Keep in mind that many, if not most of your customers will be viewing your products from their mobile device - so plan your images to present well in that format first and foremost.
Product Placement and Presentation is Key
So, we've figured out how take the best photographs of your products with ample lighting and professional table covers. Now, let's turn our focus on how to present your catalog online. Many of the same principles you are sure to be practicing at your physical storefront will translate to this medium, however, there is a much greater emphasis on each individual product. Ordering new fixtures can seem daunting but think of it as an investment, or an extension of your existing location that can always be used offline as well.
What Product Displays are Most Used by Online Retailers?
Mannequins are a must-have for any clothing brand, whether you design and hand-craft your own apparel or own a brick-and-mortar location that stocks up on the regional fashions. A great dress form can convey movement, action, and tell a story through its posture - which helps the clothes you are selling present with a look that feels lived-in rather than propped up. Pair with a selfie station to take unique photoshoots of mannequins rocking the latest trends.
Acrylic Risers are a staple for businesses showcasing small wares, especially sets. Multi-level risers excel at displaying product lines with a variety of styles, colors, and other options side-by-side while standalone risers are a great way to lift a product up for a more well-rounded view. A clear acrylic riser set is easy to clean, easier to store, and can create consistency in your product photos as a base.
Clothing Racks are incredibly useful for environmental images or to show a wide view of what you have in stock. They can also be used as a powerful visual tool during social media video campaigns while flipping through a variety of options and calling out your favorite pieces to customers.
Jewelry Fixtures help isolate singular products, especially while placed atop an acrylic riser, for quality shots that can truly bring out the beauty of the piece. Whether you are displaying earrings, necklaces, or rings - these displays provide both an organizational tool as well as a presentation prop. We see many of our boutique customers showcasing their hand-crafted and one-of-a-kind pieces on these jewelry fixtures to truly accentuate their beauty.
A Well Rounded Approach to Bringing Your Store Online
For some, this is business as usual, but for others the idea of bringing their brick-and-mortar store onto a digital platform can be a huge undertaking. We are here to help. As with anything, success begins with a strong foundation - which is you, your drive, and your products. We recommend using a DSLR camera or a newer smartphone to take high-quality images of the products you wish to put online. HD graphics are a great step in showing potential visitors that you care about your business and the service it provides. Keep in mind, you will be reaching a much larger audience than the regulars in your town.Since the internet connects the entire world, you may have customers ordering from out of state or even out of the country.
Once your product images are finished, take advantage of the streamlined tools of services such as Wix or Shopify to get your store up and running. If you are tech-savvy, take a few days to explore all of the options and set them to your liking. If you are new to this, there are plenty of free templates that allow you to simply publish, add your products, and go within an hour or two. We have been ushering in a new age of e-commerce for years now, so it is vital for businesses to keep up with the times. Bring your brick-and-mortar store online to earn you more consistent sales and help you reach a larger audience!