Posted on 19, September, 2018
Last Modified on 22, August, 2019
Shop Products from This Article
These days, almost everybody has a smartphone. It's easy to see why, they connect us to everyone we know and include a suite of essential tools. With GPS navigation, games, and countless social media apps, it's not surprising that batteries drain quickly. The average new smartphone stays charged for about 10 hours with regular use, but will eventually lose capacity over time. Businesses and institutions are starting to realize how important it is to keep visitors' devices charged. That's why phone charging stations are becoming more and more pervasive, just as smartphones and tablets have. A wide variety of locations already use these convenient fixtures to create a welcoming environment, reduce customer anxiety, and even to assist their own digital campaigns.
Open Charging Docks
Are charging stations free? Many public places and businesses offer mobile phone charging stations as a free service to their customers and guests. Most USB kiosks have an open design for freely placing and retrieving devices. These non-locking fixtures are best placed in an area where the smartphone owner can keep tabs on their touchscreen and prevent theft. Open courtesy chargers are best used in secure areas or small rooms that are easy to monitor.
Value to Businesses
Trade Show Booths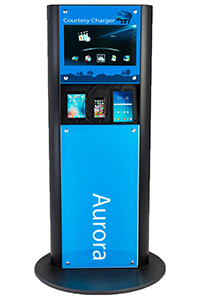 After walking around a convention center for several hours and making connections, people often need to charge their smartphones. A courtesy charging kiosk will entice visitors to enter your trade show booth or sponsor's lounge. Not only is this a great way to get people to check out your business, but it can also be a space to feature promotional messaging. Our custom printed charging stations are digitally printed in full color to feature any company's logo and branding. Models with an LCD screen are even more effective for engaging users with your content. Refilling trade show attendees' batteries while educating them about your business is ideal for building a positive and memorable experience for your brand.
Waiting Rooms
Waiting rooms are also great for featuring phone re-charging kiosks. Whether it's a bank, hospital, or a mechanic's garage, these fixtures are always a welcome sight. While visitors wait in the queue, they can recharge their smartphones at their leisure. This is also an ideal place to feature promotional literature about special services. Use a smartphone charging stand with brochure or catalog pockets to make the most use of your space.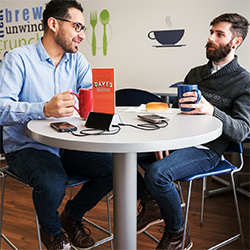 Restaurants
Phone recharging docks in cafés do more than make customers feel welcome, they encourage them to stay a little longer and perhaps... spend a little more. Placing a recharge station by the bar or table gives patrons another reason to take a seat. Patrons will be more patient and willing to sit down, enjoy beverages and appetizers, and put their device aside. While they wait, they're more likely to make another purchase.
Value to Public Spaces
Transportation Terminals
Airports are among the many high stress areas that are perfect for cellphone re-charging kiosks. People often compete for access to the few available power outlets, adding to the normal anxiety of travel. With mobile device charge stands, there's enough space for everyone. Travelers with fully charged batteries are more likely to enjoy their experience at the airport.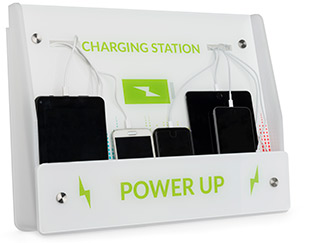 Classrooms
Students of all ages have smartphones these days, and while they have advantages and disadvantages, they'll always have a draining battery. Device kiosks are excellent for classrooms that allow tablet use as a learning tool. When phones or devices are not allowed, charging stands are the perfect solution for temporarily banning them from use. Teachers can store students' phones during a test or when they become too distracting for learners. No matter what reason the smartphone is taken away, it will always come back with a full battery!
Libraries
Phone charging kiosks are great for libraries too. Visitors aren't using their device while reading and checking out books, so these convenient fixtures are ideal for accommodating them. In university libraries, charging stands help students working long hours on research reports. These fixtures can also benefit the group by removing distracting elements from your study group.
More Options
Locking Cabinets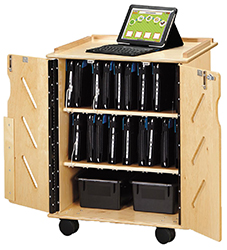 Want a totally secure area for powering devices? Our charging lockers store electronic devices in locking metal compartments. Device re-charging cabinets and carts are perfect for schools and offices that supply laptops and tablets. Students and employees can take the devices at the beginning of the session and return them to power up for the next group to use. We provide a line of individual compartment lockers that are ideal for personal devices in public places. This style has a secure space for each phone or tablet with both a combination lock and a keyhole.
Wireless Charging Tables
New iPhones and Samsung phones are compatible with cordless recharging technology. Our wireless charging tables include built-in pads that power devices without getting in the way. This line of trendy tabletops is a great choice for cafés and coffeehouses where customers would typically start to pour out when their phones lose a charge! The natural convenience and unobtrusive design will keep the crowds coming to restaurants for more.