iPad Desktop Charging Stations Accommodate Cell Phones and/or Tablets
---
Desktop iPad Chargers Organize Multiple Devices Within Small Footprints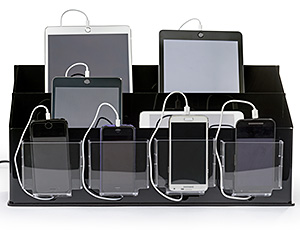 If you've only got a handful of devices to manage and maintain, why purchase a 36-unit cabinet? iPad desktop charging stations are designed for smaller capacities. Offering anywhere between 5 and 16 available slots, these docks can still handle multiple phones and/or tablets at the same time. Our iPad desktop charging stations come in three main types with specific applications. Yet, all feature Apple® Lightning and Micro-USB power cables for accommodating almost any make or model. In addition, since these iPad desktop charging stations get placed on tables or counters, they have to look good. Whether used for personal or commercial applications, the multi-device docks and racks provide visual confirmation of what's re-charging at any given time.
What different kinds of charge docks are available for purchase?
Public Courtesy — these iPad desktop charging stations come with bright, colorful graphics that "announce" the free service. They offer a simple, wide-open slot for quick and easy access. The charging stations make excellent additions inside trade show booths, waiting rooms, or any other public space where casual passersby can grab a boost on their device. Some models even offer custom marketing text within the graphics in order to "brand" your business.
Security Lockers — classrooms and businesses take an entirely different view on device charging. Inside schools that use tablets, for example, teachers must be able to manage and account for every device. Therefore, preventing theft during re-charging is crucial and this is where a locking cabinet for their classroom's tablets makes sense. Some employers have "no cell phone" policies at their place of business. In this scenario, employees at the start of their shift plug in and lock up their phones inside small lockers with combination locks. At the end of the workday, they can retrieve their device (and have it fully charged) as they leave the premises.
Personal Use — whether inside a home office or on the kitchen counter, re-charging your family's personal devices is within easy reach. Featuring handsome black acrylic construction or wooden base models with wired slots, these charging stations look great in any décor. Some styles offer adjustable dividers for accommodating the many different device sizes found in the average household.
As you can see, there are many different types of applications. What they all share in common is the ability to power-up multiple phones and tablets within a small footprint. While these multi-hub docks are designed for desktop use, many models offer a space-saving alternative. Wall charging stations free up tables or counters for more efficient use of real estate. Either way, we're confident you will find the right model for your particular application whether it's wall-mounted or on the desktop!