Posted on 10, February, 2016
Last Modified on 23, June, 2021
When it comes to hanging anything from office wall signs to custom artwork, standoffs are the best sign hardware out there for making your display pop out from the wall! But what are standoffs exactly? Hint: we're not talking about the western cowboy movie type of standoff.
What is a Standoff?
In the context of sign mounting, a standoff is a small piece of hardware that attaches to a sign and secures it to the wall. Sign standoffs are made up of a barrel, cap, and wall screw.
What makes standoffs unique from other mounting hardware is how they allow signs to actually "stand off" from the wall. This helps to create an attention-getting 3D effect around the signage.
There are a few types of sign standoffs. The most popular style is called a "through-grip" standoff. With this style, your signage will need a small hole through which the standoff's cap can screw into the barrel. Other styles like edge-grip standoffs only attach to the edges of your sign so you don't have to drill any holes.
How to Assemble Sign Standoffs:
Measure your sign & mark the wall where the wall screws will go - use a level to make sure the sign will be perfectly straight.
Drill pilot holes where marked using a drill bit that's slightly smaller than the width of the supplied wall screw.
Take your standoff and unscrew the cap from the barrel.
Screw the wall screw through the bottom of the barrel and into the pilot hole - do this for all 4 standoffs.
Line up your signage with the 4 barrels on the wall so that the holes in your sign are right over the barrels.
Screw the caps through the signage and into the barrels - this will secure the sign in place.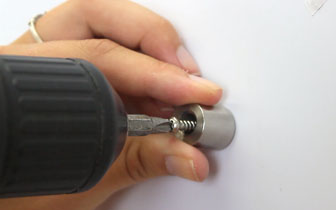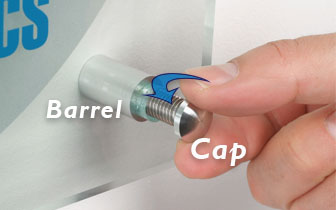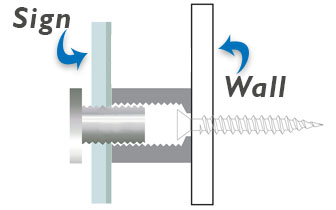 How to Hang Signs with Standoffs
What other kinds of standoffs are there? We've already talked about through-grip and edge-grip sign sign standoffs, but what other kinds of standoffs are out there?
Locking & LED light up sign standoffs
Standoffs for motherboards separate the motheboard from the case to avoid an electrical short
A deadlock or stalemate
How do you use standoffs? Show us on social media with #displays2go or upload your photo below.