Sign Standoffs for Professional Signage Installations
---
High Quality Sign Standoffs and Mounts for Installations of All Kinds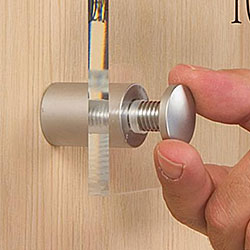 Add some elegance when mounting office wall signage or corporate logos! Sign standoffs support wood, acrylic, glass, or any rigid board worthy of display. Our mounts are designed to carry the weight of the panel while injecting some visual aesthetics to the overall presentation. Displays2go sells sign standoffs to the retail sign industry, interior designers, and architects. Each style is primarily sold in packs of four for securing at the corners of the sign display. However, panel size and weight should dictate the number of sign standoffs required for a safe and professional installation.
Installing the mounts is uncomplicated. Your rigid panels will require holes drilled in them (not needed if using the edge-grip models) to let the threaded standoff caps pass through. Mark the hole locations on the wall, predrill, and screw the standoff barrels into the included anchors. Slide the threaded caps through the drilled holes in the panel and hand-tighten the caps to the barrels. Done!
What do our sign standoffs have to offer?
Large Range of Sizes: We stock mounts in a number of diameters as well as distances off the wall. Whatever your particular application is, there is bound to be a fastener to support your sign panel. The smallest sizes are ideal for mounting photography, room designations, and wayfinding signs. Larger models support big acrylic or glass panels commonly seen behind corporate reception desks.
Standard or Edge-Grip: Standard mounts are the styles that need to have holes drilled through the sign panel. We also offer edge-grip models that don't require the use of holes. These can be a great choice when you can't (or won't) drill into your pieces, such as on art and sculptures, stained glass panels, or other important works.
Quality Fabrication: Our hardware is expertly machined out of aluminum, steel, or brass. You have your choice of many available finishes, including satin silver, chrome, black, and bright gold. When deciding on color finish, take into account how they will look when used on your custom sign panel. The standoffs should complement, not clash, with the overall design and layout.
Standoff mounting hardware is one of the most affordable ways to dress up rigid panel installations. We sell them packed in sets of four, ready to be used at each corner on reasonably-sized signage. As simple as they are, standoffs transform sign displays with their attractive finishes and wall-offset designs. Shop Displays2go for more professional sign-making supplies, including metal bases for meter board signs, cable display systems, and much more!