Posted on 14, September, 2015
Last Modified on 25, August, 2023
Shop Products from This Article
Have you been wondering what a trade show is and is it a good investment for your business? We're here to explain what it is, why you should attend, and how to do it well.
What is a Trade Show?
A trade show is an exhibition or event that brings together members of a particular industry to promote, display, demonstrate, and discuss their products or services. Most shows take place at a convention center in large cities and last between 2 and 7 days. These events present an amazing opportunity to increase your brand awareness, network with potential clients and peers, and learn more about the industry you operate in.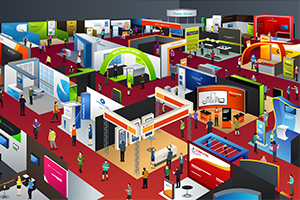 Trade shows occur virtually in every industry and trade. There are shows for just about anything you can think of. Restaurants, home, and garden, fashion, arts and crafts, beauty/personal care, and technology are some of the most common. Sometimes, there are smaller shows in a local town to present all businesses in said town or a local community has an event to gather on a common activity or product, like video game. These events are great for small businesses to get into their community.
It's important to note that visitors are not limited to industry insiders but may include consumers who are looking for your service or product.
Why Exhibit at a Trade Show?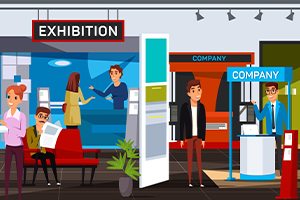 Generate high-quality, relevant leads – increase sales, prospects, and customer loyalty

You will not find a more relevant and attentive audience anywhere else. These industry insiders, leaders, experts, and consumers are just the people you want to expose your business to. It's a great opportunity to advertise trade show specific pricing and collect information for prospective leads in the future. Most shows have everyone wear badges, so renting a badger scanner (if available) could make lead capture nearly effortless. A badge scanner downloads contact information about the attendee with the push of a button – no filling out forms or contact cards. At the end of the show, you turn in your scanner and will be sent a file with all the information from your scans. This is an easy and efficient way of receiving leads and prospects throughout the whole show in one place.

At the end of the day, if a long conversation doesn't turn into a sale onsite, at the very least you've made a contact that could help your business down the road, whether it's a sale or partnership.

Get face-to-face feedback and reactions

The relevant, lead- generating audience can also be a great source for feedback and what's working or not working with your product or service. Be open to criticism and advice – the industry experts know what they're talking about. Direct feedback and reactions from consumers you are targeting is some the most valuable. Have a new product or service to introduce? Debut it at a trade show. This will allow your consumers to experience it firsthand, ask questions, and will give you the opportunity to study their reactions.

Develop your brand, increase brand awareness, and expand, visibility beyond traditional marketing

Exhibiting at a trade show is your chance to tell people just what your company is all about. You're probably planning to do this verbally during your sales pitch but remember that your booth displays can do it as well. Even a 10' x 10' exhibit can have a big impact. Use the space wisely with digital displays, banners, furniture, and more. A picture says a thousand words, right? This is your chance to connect with consumers new and existing. Let them ask the questions, meet the needs of theirs on an individual basis, and build trusting relationships.

Network with like minded brands and research your competition

Not only is a trade show a great place to generate sales, but it's one of the best ways to a get a feel for the industry you're in. Are you competitors attending the show as well? Find out what they are up to and how they are doing. Network and build partnerships with other businesses in the industry; this could help expand your market and exposure. You can get direct insight on where the industry is going in any aspect. For example, maybe recycled materials are up and coming for your product or service. Learn how to identify trends and integrate them into your plans for the upcoming year and beyond.
What Makes a Good Trade Show Booth?
Professionalism

This sophistication applies to both the staff working in the booth and the visuals on display. Employees show be well-dressed (uniforms type shirts with logos), attentive, prepared, and approachable! Similarly, while it doesn't have to be the fanciest booth out there, an exhibit booth equipped with professional signs, banners, and furniture will make a big difference. Check out our article detailing Budget Friendly Trade Show Planning!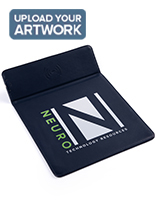 Memorable Giveaways

Who doesn't like free stuff? Custom trade show giveaways serve two purposes in trade show booths: they pull in attendees who want some free swag, and they increase brand awareness when those attendees take the branded gifts out into the world. The key is to give out something memorable (think beyond the standard pen) that people could want or need. It doesn't have to relate to your product or service – just put your logo on it!

Stand Out

Overall, the show will be an investment. Before you decide to attend, make sure this show is a perfect fit for your industry. Find out if your competitors and industry leading companies are attending. Is the show in a good city/location? Consider travel costs. Select the best location for your booth on the show floor, check out How to Select the Perfect Spot for your Trade Show Booth to for more insight. Build a good plan to crush goals, estimate total costs, and ultimately receive great ROI.
Once you're sure the show is a good fit, do everything you can to emerge from the crowd and stand out. Using colorful and attention- getting banners, backdrops, signs, and technology make for an effective trade show. Don't choose the boring, cookie-cutter route. Standing out from the crowd = greater reach among attendees.