Bow Flag with Custom or Stock Advertising Messages
Bow Flags with Curved & Straight Poles for Outdoor Promotion
In need of a fresh advertising strategy for your business' exterior but unsure what to purchase? This bow flag selection is the preferred way to develop outdoor advertisements. Promotional aids can make or break a company, so finding the proper teardrop displays is essential. The bow flag is designed to help organizations with branding, marketing or simply obtaining more exposure. Most of these displays allow for custom printing of emblems or text, which entices onlookers into attending events or buying certain merchandise. Moreover, many styles of this bow flag are available with flagpoles or hardware that enables them to be used on both hard and soft surfaces. Many businesses position a bowflag at storefronts to draw customers into their establishments. Combining a custom bow flag with a banner holder gives proprietors and store owners the most flexibility in targeting consumers. In addition, the advertising displays are portable and lightweight, which makes set up and take down effortless. Displays2Go.com supplies this bow flag in a variety of configurations and sizes at low, wholesale values! Peruse the wide selection of highly functional displays and get started on a whole new merchandising campaign!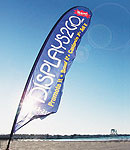 These bow flags for advertising are usually applied on the sidelines of athletic competitions, in retail entryways, or at outdoor festivals. These bow banners are also set up at other events including concerts and street fairs. These feather signs are optimized for use in reasonable to moderate weather, such as wind, rain and snow. Oftentimes, gusting wind cause damage to bow flags, but these banners are constructed from only the finest materials. While some flag poles allow bow banners to become entangled around the center support, our larger banner stands are able to rotate with the wind. This ability prevents the units from toppling over and keeps bow flags from getting all wrapped up. An additional benefit of this feature is that the rotation of the bow flags grabs the attention of bystanders. With these commercial bow banner options, users can ensure their fluttering flags are easily deciphered. Add bow banners and feather flags like these models to keep digital or silkscreened prints visible.
What is the process for custom printing bow banners?
There are two different choices for customizing these teardrop and feather displays.
For the vinyl models, 1, 2, 3 & full color printing is available, allowing for the creation of distinctive flags. Using a bow banner with company logos or slogans is an excellent way to target your presentations.
Other versions feature digital printing that are optimal for developing more in-depth graphics. An additional but more expensive digital print option is a dye-sublimation process that keeps bow banners colorful and bright through many years of use.
Either choice can have one and two-sided signage that can be seen from both sides. It is important to note, however, that there are solutions in which one side will appear to be flipped horizontally. Other styles have "right-reading" backsides that are slightly more costly.
Both the digital and silkscreen print methods allow your bow banners to last in normal outdoor conditions.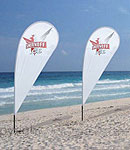 Which characteristics make these bow banners and poles the best advertising displays?
The designs of these bow banner signs and teardrop signs weigh surprisingly little and can be set up or disassembled easily. A selection of bases also permits the units to function well, whether they are implemented on grass, sand, soil, concrete or another surface. Carrying cases are enclosed with most models, which makes relocation to and from events even simpler.
This bow banner is often used in conjunction with personalized symbols or wording that are treated to weather the elements. The stands are also ruggedly constructed to last for years.
Some of these affordable bow banner stands are outfitted with armatures that keep pennants taut even when the wind is not blowing.
Our most highly regarded flagpoles swivel with gusting wind to protect against damage to the structures. These units are a very practical choice, as they maintain stability during high wind better than other stands. An extra benefit of this waving motion is that it is eye-catching to customers. Use this feature to focus attention on your displayed signage.
These teardrop and feather flags for use on the exterior of buildings captivate viewers. Your bowhead sign lets passersby know that your store is open to the public and is resistant to wind. Store pennants are rather strong, and the bright coloration helps turn heads in any environment. This bowflag is ideal for promoting brands or upcoming events throughout many locations, as it can be repositioned easily. Select the most functional fixtures to add more exposure to your business. Dazzle consumers with flamboyant announcements that make them want to purchase your merchandise!
The offered printing options are as diverse as our customers and our company tries to supply enough information to make informed decisions. Digital printing allows for the most freedom when deciding on symbols or logos for signs. These prints can be done in as few as one item batches, which is popular among our shoppers. Because no company can guarantee exact colors (as every computer monitor coloration can vary), we suggest the use of Pantone® colors to help ensure the closest possible color matches. Dye sublimation is another factor to consider, as this process produces extremely vivacious and enduring graphics. Either preference can be detailed or simple in layout. Some companies choose signs with basic solid backgrounds that feature their emblems, while other businesses want more complex teardrop presentations.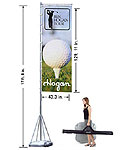 Another method for printing teardrop or feather flags is vinyl silk-screening. Heat-transfer vinyl imprinting is accessible for most of our signs. This message signage comes with nine color preferences, and there is an option for 1-color or 2-color printing for each. There are some limitations on designs but every item page provides a vector artwork link that details the submission process. When applying vinyl colors for artwork, consider how the images and text will materialize when printed on the canvas. Single color printing works well for all kinds of advertisements, and sometimes single color graphics are more appealing and easier to read than chaotic digital prints. If your emblem has overlapping shapes, then 2-color custom printing may be the realistic option. Please note that most vinyl styles necessitate a minimum order of ten units.
Displays2Go.com is a leading custom advertising bow banner supplier. Our company sells merchandise lines that include swooper, blade, teardrop, feather, popup and other custom advertising bow banner styles, as well as flag poles. If you have any questions regarding your order, our customer service department can assist you Monday through Thursday from 8 a.m. to 6:30 p.m. and Friday from 8 a.m. to 5:30 p.m. EST. You can also call 1-800-572-2194, or while online, participate in a live chat with one of our representatives. If you are unavailable during normal business hours, just send an Email, and we will respond as quickly as possible. We maintain several fully-stocked, on-site warehouses, so we are able to offer same-day shipping on most merchandise. If your order is in stock and received before 3PM EST, it will ship the same day. Same-day shipping is not offered on freight-shipped orders or items that require customization. Order from our wide range of teardrop and bowhead merchandising displays to promote events, competitions and sales!