Countertop Display Cases for Commercial or Personal Applications
---
Glass and Acrylic Cases for Tabletop Merchandising or Collectibles Display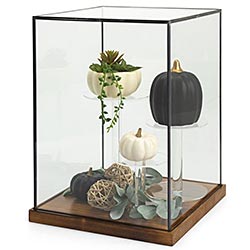 These countertop display cases come in a variety of styles and sizes - large and small. Showcase dolls, pastries, or other small memorabilia in the home, or hold jewelry and other products in a retail store. In the end, acrylic showcases are the economical way to display merchandise. Many of the countertop display cases featured here are suitable for spotlighting memorabilia or small retail merchandise such as jewelry or electronics. Collectors like to use dust covers to hold autographed sports merchandise, such as footballs, baseballs, or jerseys. For bake shops and coffee houses, countertop display cases keep pastries, cupcakes, or other bulk food merchandise safe and hygienic. The types of applications are endless!
Countertop display cases for sale here are the clear choice when it comes to to exhibiting sports memorabilia, model cars, action figures, or food items like pastries and donuts. Whether its baseball, football, or basketball memorabilia, acrylic dust covers are a smart and affordable alternative to custom glass displays, with just about the same look. Our countertop cases also provide a way for you to proudly display your die cast scale model NASCAR car, artwork, or other small collectible. The acrylic is well protected during shipping, to lessen damage due to a carrying mishap.
These showcases are CNC laser cut to ensure consistent quality, and dismiss the need for the labor intensive, stress creating bonding process. This process polishes the edges while cutting, allowing for cost reduction by eliminating the need for diamond polishing, or flame polishing.
What are some of the features and materials of these display cases?
All of the units shown here are made with acrylic, which is inherently more safe, and less of a liability if it gets broken.
There are a select few small display cases that feature a mirrored base that reflects the displayed item. Rotating cases are a great way to allow customers to view a large selection of displays.
For further queries regarding materials or other product related queries click on the corresponding image above for more in-depth information.
What are these cases used to display?
Action Figures - G.I Joe, Star Wars, DC Comics
Model Cars
Merchandise & Electronics
China & Antiques
Food, Pastries
Do any products ship fully assembled?
Most of the merchandise shown here ship in one box, but are packed such that the top and base would need to be attached.
This small display case typically consists of two components that are intended to be removed and replaced frequently.
The units with the aluminum framing do ship completely assembled.
These acrylic cases are incredibly effective for increasing sales at checkout areas. Customers will be much more likely to make impulse purchasing decisions if a product is located near the cash register. Selling some more expensive items like electronics or antiques? Keeping them close to the counter and under lock and key is a great way to allow employees to monitor and handle the most expensive products for sale.