Slatwall Gondola | Store Fixtures with Grooved Paneling for Shelves
---
Slatwall Gondola with Grooved Panel Designs - Shelving Fixtures for Retail Stores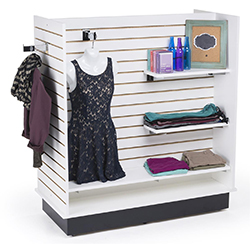 These slatwall gondolas are excellent for showcasing retail merchandise. Each store fixture can accommodate many different types of shelves, hooks, and other holders, eliminating the need for custom designed racks. Floor standing slatwall gondolas feature panels on all sides, making them ideal as centerpieces for shops. The displays are offered in a number of finishes such as natural, white, or black, as well as various shapes and sizes. Browse our slatwall gondolas for the right model that suits your business's floor plan.
Our retail shelving displays are also available in different designs to accommodate any room's configuration. One of our designs is the H-shaped slatwall gondola that has a wide shape for fitting lots of accessories. These have a stationary design that makes them ideal for holding large merchandise like clothing, electronics, and toys. Our other models are tall and feature a rotating base. These gondolas are great for maximizing space when real estate is at a premium. For example, place one of these slatwall spinners close to a wall and all of the merchandise can still be accessed by spinning it around. Rotating gridwall towers also feature hidden caster wheels for quick relocation.
Each gondola is made of strong materials for long lasting use in busy retail stores. Our displays are covered in melamine panels that have a long lasting design. The slats are just as strong, able to hold pounds of weight. We also offer units with metal Anchor™ Core grooves that can support even more. If you're looking to display heavy duty products with these retail fixtures, look for the models with the sturdy slat inserts.
Ready to hang your merchandise? Our catalog features a huge selection of accessories and attachments. Browse our shelves shelves in multiple sizes. We also offer a variety of single and multiple display hooks that are excellent for featuring clothing and packaged items. Hold literature, graphics and small merchandise with acrylic and wire dump bins and pockets as well. Create the perfect commercial fixture with these gondolas, add-ons, and accessories, all offered with fast shipping and wholesale pricing.