Double Sided Slatwall Displays for Strategic Floor Placement
---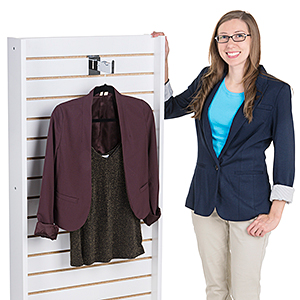 Double-Sided Slatwall Displays Provide Valuable Merchandising Space in a Small Footprint
Lots of retailers use these familiar fixtures throughout their store's layout. Used in conjunction with the wall mounted grooved panels, double-sided slatwall displays offer a different approach to merchandising. Placed on the floor, they allow browsing customers a close-up view of your items for sale. Shoppers have the freedom to stroll the sales floor while being able to pick up and inspect the merchandise. In addition, these double-sided slatwall displays provide maximum visibility to new product lines, items on sale, or seasonal sales campaigns. Since they are free-standing, you can plant them at store entrances or directly in front of their path for the most exposure. Even though their footprints are small, their double-sided capabilities let you take full advantage of all available real estate.
What makes these popular store fixtures such an excellent value?
Double-sided slatwall displays can be used in two ways. First and foremost is the merchandising angle. Suitable for hanging and stocking products, these racks place your items within easy reach of customers. However, another angle to consider is marketing. If your business provides a service, what better way is there than to inform your clientele with a display that offers takeaway literature.
Merchandising — for the retailer, it's all about getting your products out in front of the customer. Merchandise comes in many forms, from blister packs to clothing to items packed in boxes. Slatwall fixtures provide the backbone. If hanging apparel, metal hook accessories are requisite. What if you've got a lot of small items in bulk? Acrylic bins provide a quick and easy way to display smalls. They allow for fast replenishing too. For boxes, reach for slatwall shelving which attaches to the grooved panels using metal brackets. This gives you lots of convenient, flat surfaces for stacking.
Marketing — financial institutions and service providers of all kinds always have important information to hand out. Whether it's about mortgage rates or payment plan options, what is needed is an organized way to display and distribute the literature. Slatwall towers can be augmented with sign holders and pockets just for this purpose. Point attention to your service by showcasing a large printed poster on top. Below that, add hook-on brochure pockets stocked with tri-fold pamphlets, catalogs, or flyers. Offering take-away literature is important for your business. Make it easy to connect with potential customers using a small footprint brochure stand!
We sell slat wall racks in a number of professional colors, including many with faux wood finishes. Models feature 7 to 15 available grooves for accepting the accessories of your choice (sold separately). While most are static, there are a couple of spinners that give shoppers the ability to see both sides on the fly. Just like traditional gondolas and wall mount panels, these 2-sided stands feature the same quality construction and durability. Outfit your establishment with these professional store fixtures that can accommodate virtually any item!