Trade Show Tents — Stand-Up Pavilions and Dome Kiosks
---
Portable Canopies - Pop-Up Awnings & Gazebos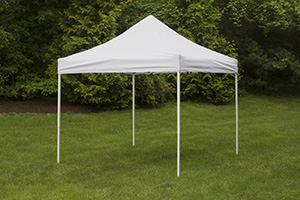 Are you searching for the perfect transportable canopy to attend a large expo event? Our trade show tents come in a variety of styles and designs perfect for any convention, festival, or outdoor function. Each stand-up canopy is stylish, practical, simple to use, and convenient to transport. Trade show tents are great to use for ticket sales, food service, or product demonstrations — both indoors and outdoors. We have pop-up canopies in standard styles, gazebo-type units, and models that can be customized with artwork and graphics. These trade show tents are often used for promotions by radio stations, school clubs, and corporate functions. A portable awning is a popular design because it allows for a professional appearance while providing a sheltered space for exhibitors.
What types of pop-up canopies are available on our site?
Stand-up pavilions: These trade show tents are available in plain 10x10 designs that come in finishes of black, white, and blue. Although very standard, these canopies serve their purpose of protecting visitors from the sun and harsh elements. Side panels can be purchased as needed, and models are available with a fully enclosed design if desired.
Customizable: Many standard pop-up canopies can be customized with graphics to display a company logo, vivid illustration, or message. In a crowded event, it's important to be noticed. Having a display with bright images will catch the attention of passersby. Models with back wall panels and half walls are available to enhance your display or keep it enclosed.
Domes/Kiosks: These gazebo-style portable tents come in a variety of sizes and styles with many features. Depending on the size of the unit, up to three counters are available inside. With this countertop space, these domes can be used as concession stands at games and festivals or as displays in fairs or other expo events. Each transportable pavilion comes with a vinyl skirt and canopy that is available in a solid color or a full-color digital print. The high-quality material on these units are UV, oil, and mildew/bacteria resistant — which means they can be cleaned with just soap and water! Our portable kiosks can also be personalized with custom graphics and illustrations to spread a company's brand message.
How Can Pop-Up Tents Aid Classrooms & Socially Distanced Events?
School cafeterias present a significant challenge for faculty and students alike. In warm climates, outdoor eating areas are a great way to promote safe social distancing my providing smaller pods for students to eat in. Scatter these pop-up tents around campus in your school courtyard, sports fields, or extra parking lot spaces to help reduce congestion and tightly packed areas during out-of-class times.
Many schools are providing students with designated zones to take mask-free breaks during normal school hours. These alternative spaces give those with underlying medical issues such as asthma or other breathing-related concerns a respite from wearing their mask for hours on end. These mask-off areas can be placed outside, accompanied with social distancing tools such as hand sanitizer and wipes to give both students and teachers a place to refresh their energy and reset for the next class.
Offices and corporate workplaces can utilize pop-up social distancing tents as designated smoking and non-smoking areas, incorporate picnic tables to reduce cafeteria traffic, or provide workers with an open space to take frequent mask-free breaks. Outside break areas are a fantastic way to reduce foot traffic in traditional break rooms and conference rooms, allowing more flexibility for small teams to collaborate in an open-air environment
Outdoor fairs, festivals, and events are being utilized more often as businesses find new, innovative ways to get back into a normal workflow. As a result, vendors are looking for outdoor tents that are lightweight, branded, and easy-to-assemble to bring to their next event. Pop-up tents are a great way for your business to thrive during socially distanced trade show events, providing ample space between other demos and giving you the freedom to limit the number people allowed in the tent at a time to adhere to best public health practices.
Both the solid colored and customizable awnings assemble in a few minutes for instant shelter from the elements. For convention exhibitors and outdoor vendors that need to hustle from place to place, a pop-up canopy that is lightweight and easy to set up is essential. Each portable awning comes with a travel case for transportation and storage. Because of their compact size, these bags won't take up valuable space in your car that may be needed for other items in your display. Our domes, although bigger, also come equipped with carrying bags for easy transportation to events. Displays2go has everything you need to create a stunning display at your next convention. Shop online today for quick shipping and low prices!