Menu Sign Stands w/ Takeaway Pockets
---
Menu Stands w/ Pockets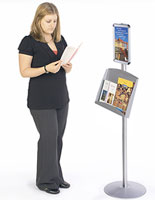 These menu holder stand are an ideal way to advertise and disperse information. With attached pockets and holders, you can distribute menus, brochures, takeout lists, and more with ease! Do you need a sign holder stand with a standard size graphics and one magazine pocket? Not a problem. There is a sign holder stand offered here to meet almost any design need. These literature displays are essentially acrylic or metal brochure pockets on a floor standing post. Each signage holder stand incorporates a menu holder and a signage frame onto one common fixture. In this way, the display helps retailers and other businesses advertise a product, service, or food options while also allowing patrons to take detailed reading material home. Choose a sign holder stand with one or multi-tiered menu pockets. Conveniently, many of these floor poster displays feature adjustable holders with peg dividers for holding menus and brochures of all shapes and sizes. This sign holder stand can hold as wide as 8.5" or as narrow as 4" booklets and pamphlets. Other floor standing menu fixtures feature one large metal pocket that hold standard materials of various sizes. Many of the sign holder stand options offered here feature an 8.5"x11" frame. This is a common size that can easily be created from standard copy paper. Buy a floor standing poster holder with a literature pocket for your retail store or other commercial setting.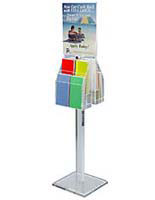 Many of these sign holder stands are available in clear or black acrylic so shoppers can choose which color will best suit their advertising environment. There are also several units with a single aluminum pole and base, as well as floor standing units made with wood. All of these sign holder stands are efficient displays for offering reading material along with a coordinating poster. The signage typically draws the eye toward the fixture, while the literature is intended for shoppers to take home and read further. Car dealers like to use this sign holder stand to promote a particular vehicle or special sale offer. Likewise this menu poster pedestal can be used in a restaurant to display a dinner special along with a spot to offer take-out menus. This sign holder stand can also be placed in a bank lobby to show current interest rates along with pamphlets for various services. Regardless of the type of business it is placed in; these acrylic, metal or wood displays offer a great method of offering informative reading materials to patrons.
Are these sign holder stands shipped fully assembled?
Most of the literature and poster displays shown here require some degree of assembly prior to use.
All of these sign holder stands that ship unassembled come with a complete and detailed set of instructions.
Assembly can easily be completed by one person in a matter of minutes.
Where are these sign holder stands commonly used?
Travel agents and car dealerships use these poster and literature displays to offer take-home information to their customers.
These sign holder stands are often seen in bank lobbies for patrons to read about services, and offer brochures for more in-depth information.
These floor poster displays are effective marketing tools for practically any type of public setting.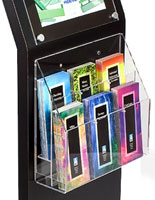 These acrylic, metal and wood poster displays are in stock and ready to ship. In addition to the products shown on this page there is an even broader selection of free standing signage displays offered in this online warehouse. Not sure if a floor standing unit is the best retail marketing tool for your needs? View the complete line of poster frames and literature holders, including table top wall mount and ceiling hung frames in the main shopping categories. Shoppers can choose from a wide array of fixtures that are intended for retail promotions and showcasing products and services. No other online retailer has such a diverse assortment of items along with an incomparable shipping policy. Start shopping today, and see what the rest of corporate America is raving about!
This e-catalog also features thousands of other POP display products which can be seen at the main shopping categories page. Some of the other lines of merchandise include; poster frames, table tents, bulletin boards, retail fixtures and much more. Choose Displays2go for all of your retail marketing displays. There are recently more than two million units in stock, ready to ship. All of the items offered on this website ship from one of several warehouses located within the United States. By maintaining such a large live inventory the lead times are kept incredibly low. Same day shipping is available on more than 90% of the fixtures offered here. Shoppers that place an order prior to 3PM EST qualify for same day shipping options. All other requests are processed and shipped the following business day. Please see the details for each product to ensure that same day shipping is available. Some restrictions do apply with such items as custom printed graphics and large build-to-order display cabinets. For further assistance be sure to contact a helpful member of our call center staff. These experts are available weekdays during regular business hours to assist shoppers with anything from placing an order, to checking on the status of an existing shipment. This company has been doing business for more than thirty eight years, and has a reputation within this industry for offering quality merchandise and outstanding customer service. Buy with confidence here at Displays2go!