Modern Metal Lecterns with Locking Wheels, Custom Printing, and Acrylic Front Panels
---
Floor Standing Lecterns with Modern Metal Truss Designs, Acrylic Panels, and Custom Logos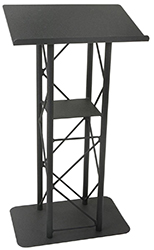 Are you looking for a sturdy steel podium or attractive aluminum pulpit for public speaking events such as college lectures, church sermons, and business seminars? Our modern metal lecterns are highly durable lightweight floor rostrums available in a variety of styles suited to meet the needs of any professional or academic presentation. From sleek black guest book podiums with truss designs to aluminum or steel pulpits with acrylic panels and custom printed logos, you can be sure that we carry a model that's perfect to match the decor of your venue. Our modern metal lecterns are ideal for schools, churches, or conference halls and provide a professional focal point for speakers. The durable design makes these steel guest book podiums a great choice for any setting — they'll last for years even in high traffic environments. Modern metal lecterns come in a number of shapes and styles, including those with additional storage shelves, wide or small platforms, and wheels for added mobility.
What types of metallic floor podiums for public speaking are offered here?
Truss-style guest book stands offer simple yet durable designs at an affordable price. These modern metal lecterns are made from aluminum or steel and feature see-through construction that lets the audience see the entirety of the presenter.
Metal lecterns with acrylic panels have a high-class appearance that's synonymous with professionalism. This style of pulpit has aluminum sides with a silver or black finish. The acrylic front panel is available clear or frosted with optional custom graphics. A high-quality lectern with a personalized logo is the perfect way to build a brand or gain trust from an audience. Similar models feature a front panel of wood or marble for a classic aesthetic.
Other designs of metallic floor standing metal lecterns include special features that make them stand out:

Moving your speaking stand around a building is easy when it comes with wheels. The included caster wheels lock to create a stable surface for making presentations
Accommodate a number of different speakers with a height-adjustable podium. These use a pneumatic assist system that makes them easy to move up and down.
Want to attach a tablet to your presentation stand? Browse our pulpits with mounts that conveniently display a touchscreen device for the presenter.
Speaking stands with literature holders are great for promotion. Bring these to trade shows to dispense brochures and magazines while presenting your brand.

Affordable metal lecterns are great for organizations on a budget. Find fixtures for under $200 and even some models that are less than $100. Church pulpits with a cross in the center are a perfect example of these economical options. These guest book stands have a simple design that keeps the price down, but their durable fabrication will last just as long.
Lecterns, podia, rostrums, and pulpits are the focal point of any presentation, so why not make sure that yours represents the brand and supports each speaker well? Metal podiums are useful in any industry; our customers commonly use them to support restaurant hostesses, churches, professors, and business professionals. While these speaking stands are valued for their long lasting fabrication, their sleek appearance creates a commanding presence. Browse our contemporary acrylic podiums and classic wooden pulpits for a more diverse selection. Displays2go is a one-stop shop for all business related furniture, hardware, and signage. We grow with you from furnishing your storefront before the grand opening, to providing portable trade show exhibits, and all the providing marketing material needed to expand your brand.