Acrylic Podiums for Churches, Lecture Halls, and Conference Rooms
---
Clear Contemporary Lecterns Offer Modern Styling for Readings, Speeches, or Sermons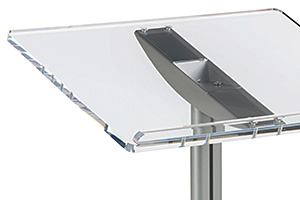 Call it what you will: lucite, acrylite, plexiglass, perspex - it's all the same thing. Acrylic podiums are the embodiment of what it means to be contemporary. Whether used in religious or secular settings, these modern lecturns offer clean lines with a minimal design aesthetic. Unlike wooden pulpits heavy with tradition, acrylic podiums have a certain lightness about them directly attributed to this strong, clear material. Available for sale in white or black, as well as clear or frosted, our lectern collection offers a sizable selection of all-plastic models or styles paired with wood or metal. As an acrylic display manufacturer, we sell only the highest quality podiums with an eye for fine detail, especially important when fabricating with this desirable material.
What are some of the defining characteristics of manufacturing with plexiglass?
Acrylic podiums bonded together with solvent provide the best appearance. There are no visible mechanical fasteners, just clean lines. The bonding process is the most difficult technique to master when compared with other fabrications, but when finished what is left is a beautiful marriage of form and function. As a result, bonded podiums need to ship fully assembled and with that comes extra freight costs.
Lecturns that use mechanical fasteners make up the bulk of our offerings. These models ship using regular mail at minimal cost for the end user to assemble on their own. Available in all-plastic designs or acrylic with wood or aluminum pairings, the method for fastening is the same. Threaded inserts are embedded inside the acrylic using heat or ultrasonic waves which allow panels to be fastened together with screws. This makes assembly a cinch, but the screws and inserts are visible through the plastic.
Another feature clear acrylic offers is polished edging. When plastic sheeting is cut on table saws, the edge shows saw marks and a frosted appearance. Polishing smooths out these rough details, providing a clear view through the material itself. Flame polishing is one method but results can be inconsistent. We prefer to use machine-driven diamond edge polishing, which provides an even and more finished appearance every time.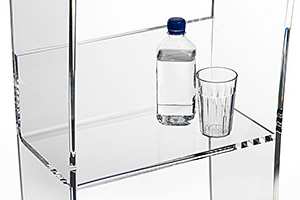 So which podium is the right choice? Choosing a lectern doesn't have to be difficult. You can look at it this way: informal vs. formal. Models with metal pole designs are the most economical due to their simplicity, and are more suitable for quick presentations, meetings, and school readings. At formal occasions where the speaker is delivering a church sermon or hall lecture, a full-body pulpit is recommended. These styles not only offer a greater selection, but they also come with more features such as wider ledges for multiple reading materials and internal shelves for drinking water and/or other supplies. Another consideration is whether to choose clear, see-through or frosted fronts. The frosted panels allow light to pass through but provide more modesty. Other models offer wood and clear plastic combinations that offer the best of both worlds - traditional and contemporary. Wooden pulpits add a bit of warmth and solidity, while the plastic fronts and tops provide the modern sensibility. If you are planning to buy a contemporary lectern for your establishment, our large selection offers the most professional acrylic manufacturing processes and techniques available.