Dry Erase Boards | Erasable Markerboards for Classrooms and Offices
---
---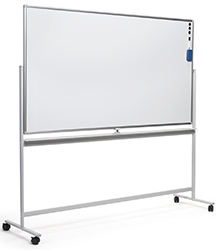 Writing Boards with Erasable Surfaces for Dry Erase Markers
Need a whiteboard for your classroom or office that's easy to write on? Dry erase boards are great for conveying information to employees and students. These writing surfaces let anyone contribute to the lesson or meeting and are easily erasable for the next topic. Our dry erase boards are offered in a wide variety of sizes and styles to assist presentations in schools and businesses. The markerboards are offered as large wall mounts, floor standing easels, rolling carts, and even as write-on tables. All of these dry erase boards are cleaned quickly with erasers, making them ideal for presenting with speed.
What types of whiteboards are available?
Wall mounted dry erase boards are the largest surfaces we offer, measuring up to 72" x 48." Traditional markerboards feature a frame made of wood or aluminum. Modern write-on fixtures have a sleek frameless design that is held up by a metal standoff in each corner. These sleek glass or acrylic write-on surfaces are excellent for contemporary offices because of their seamless appearance. Both framed and frameless whiteboards are available with magnetic surfaces for easily attaching papers or notes.
Marker board easels are floor standing displays that are easier to fit in classrooms and conference rooms. These tripods are portable unlike wall mounts and are excellent for large facilities. It's easy to bring a presentation from room to room with these folding markerboard stands. The displays include a flip chart for recording brainstorming sessions and important meetings.
White boards with wheels are the ultimate portable presentation tools. Mobile writing surfaces are easy to roll down hallways in schools and corporate offices. Magnet receptive whiteboards with wheels are offered in a variety of sizes, including both landscape and portrait orientations. Double sided models with a flippable design have twice as much space for notes. The carts have caster wheels that are locked into place for stability while writing notes.
Write-on tables are functional furniture with dry erase tabletops. Employees and students can draw directly on the tabletop. This is ideal for group work activities where everyone is encouraged to participate. Using these markerboard tables is a great way to save space in study halls and conference rooms.
Whiteboards can include permanent printed graphics for featuring calendars, sheet music, and more. Alternatively, use custom imprinted wall mounts to feature a company or school logo. Easily draw over templates, making templates and music notation a breeze.
Our whiteboards aren't just offered in white. There are also gray and black surfaces for matching any décor. Choose a blackboard to make bright markers stand out more than they would on light backdrops.
Need some accessories to go with your writing fixture? We sell markers, erasers, and strong rare earth magnets for the perfect presentation. Looking for chalkboards with a highly visible write-on display? LED writing boards illuminate your messaging and artwork with a bright colorful lights. We have so many solutions for featuring your writing.