Whiteboard Tables for Classrooms and Offices
---
Tables with Whiteboard Surface for Dry Erase Markers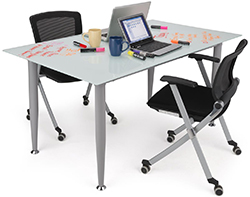 Want a countertop that students and employees can write on? Our whiteboard tables are the ideal solution, featuring large surfaces for use with dry erase markers. This group work furniture is designed for educational and commercial environments. Whiteboard tables are offered in both child and adult sizes, making them great for both schools and offices. This write-on tabletop is where students answer questions and employees write their ideas from a brainstorming session. These whiteboard tables are excellent for sharing ideas and showing work with ease.
What types of markerboard tabletops do we offer?
These whiteboard tables for offices and schools are offered with two different types of tabletop surfaces: MDF and tempered glass. Each has their own benefits and options to accommodate both classrooms and conference rooms.
Markerboard tables with MDF tabletops are excellent for dry erase markers and come in a variety of sizes. These square, circular, and rectangular countertops facilitate collaborating and learning in any space. Each counter has height adjustable legs, reaching up to 24" or 31" high, depending on the model. The shorter dry erase countertop is ideally suited for classrooms and daycares because they're perfect for a preschooler's stature. In addition, this line features rounded corners to keep young students safe from injury.
Tempered glass markerboard tables are better for conference rooms and offices because they're sized for adults. These sleek write-on desks have a non-porous countertop for use with both wet erase and dry erase markers. This smooth top is very easy to clean with a damp paper towel. Tempered glass countertops have a modern design that looks great in professional workplaces.
Our write-on furniture is ideal for letting both employees and students share their ideas. In offices, managers can hold meetings where employees brainstorm by simply writing on the countertop. This is a great way to get everyone to contribute to the topic without needing to hand out papers. Another solution that gets employees to share their ideas is our line of desktop privacy screens with dry erase surfaces. Marker messaging is easy to clean, making it the ideal choice for temporary notes and writing.
In classrooms, these dry erase top desks let students answer questions without worksheets and handouts. Teachers can easily see children's responses to the prompt or drawings in an artistic exercise. These write-on countertops are ideal for downtime too, students can scribble and draw as much as they want since cleanup takes only seconds.