Vendor Display Tents with Custom Printed Graphics
---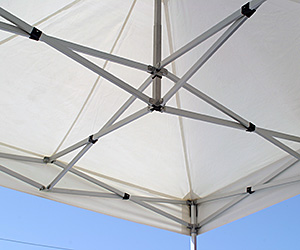 Customize Your Pop-up Canopy with Promotional Graphics!
When it comes to selling food or merchandise at outdoor events, it pays to provide shade for you and potential customers. Our vendor display tents do just that, but with an additional promotional edge! These EZ pop-up canopies feature custom printed graphics. It's readily apparent the value of having the name of your business emblazoned on the fabric. This is because vendor display tents with advertising graphics provide a destination point for festival attendees. Whether they are getting hungry or looking for a particular item, seeing who you are and what you're selling lets your customers find you fast. Our vendor display tents feature durable polyester fabric with optional full or half wall accessories. Setup is easy thanks to the collapsible frame design. Each tent comes with ground stakes and a canvas carrying bag to make transport to and from the venue easy and convenient.
What are my options for purchasing a custom-printed pop-up canopy?
Vendor display tents offer two ways to add your company artwork. The lesser expensive method is via heat transferred imprint. The graphic is applied onto the top canopy area, on all four sides. An optional choice includes printing on the valances, which are the thin rectangular sections running around the perimeter. The process prints your custom artwork onto a separate piece of vinyl, or decal. This is then adhered permanently to the fabric surface using heat and pressure. You also have the freedom to choose the tent color's fabric. Important point: make sure your artwork will be visible on the fabric color you are choosing. If your logo or text message is predominantly blue, the design would provide an illegible result on a blue-colored tent. Contrast is what is needed, so take this into consideration when planning and designing your canopy tent purchase.
The second method involves dye sublimation and is the more expensive option. This process also involves heat and pressure to create the vivid print quality. The major difference is, unlike a heat transfer decal, dye sublimation actually transfers the ink directly into the fabric surface. This not only provides full-bleed print capabilities, but it also offers the brightest colors for maximum impact. Including custom-printed backdrops and half walls into the overall design increases this effect even more. If high-visibility is what you're after, we highly recommend choosing a dye-sub tent.
Local event pop-up canopies with collapsible aluminum frameworks do more than just provide shade. The fabric prevents the sun's heat from ruining or damaging your merchandise. Edibles like cotton candy and kettle corn, artisanal soaps, paintings, and other valuables stay protected and under cover. At art shows, reducing glare is tantamount if you want potential clients to see your work in the best possible light. Adding side walls and/or backdrop walls also offers a certain degree of wind dampening, another important consideration for the booth exhibitor. However, adding custom graphics to these street fair and festival canopies is perhaps their most important feature. Passersby will see you well in advance. Entice them with colorful artwork that points attention to your wares. Once a crowd builds in front of your tent, more will surely follow!