Wholesale Tables with Covers - Cloth and Spandex Tablecloths
---
Wholesale Table and Cover Kits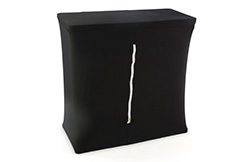 Want professional looking countertops for your event? These wholesale tables with covers are ideal for setting up an attractive display at trade shows, expos, and banquets. Each sturdy portable tabletop includes a durable throw that creates a professional presentation no matter where they're arranged. Get two items at once with these wholesale tables with covers — an excellent economic solution for commercial events, restaurants, and parties. We offer a number of options to fit any situation. Browse our variety of wholesale tables with covers to find the right countertop tablecloth kit for your occasion.
What types of booth sets are available?
Our wholesale tables with covers include stands in an assortment of shapes and sizes to meet any business's needs. Round stands such as highboy and banquet models are excellent for restaurants and bars. Use these cocktail tables with covers to furnish your next party, wedding, or reunion with modern accommodations.
Rectangular counter sets are great for trade shows where exhibitors feature merchandise and product samples throughout the event. These tables with covers are offered in 6' and 8' wide models and are also available with a header for more visibility at busy expos. Use this countertop space to create a base for your personalized presentation and get noticed at any event.
Shop our tables with customized linens to promote your brand. Choose from simple text printing or full color graphic imprints that can replicate any company's logo. Get a countertop with a personalized tablecloth for a trade show ready display.
What makes these furniture kits great for events? All of these tables have a portable design for easy transportation to trade shows and banquets. Each unit has folding legs and a sturdy fabrication that makes setting up and breaking down a breeze. Carry these fixtures easily with the plastic handle mounted on the side. The cloth is made from durable polyester or a polyester-spandex blend that will survive even the busiest environments. These materials are also wrinkle-resistant to keep your booth looking professional. Each cloth is machine washable — no matter what spills and mishaps happen during travel, you'll have a clean linen after one wash.
Want to complete your trade show display? Browse our selection of countertop literature holders to feature brochures, magazines, and catalogs on your new event booth. If you're using our cocktail tables with included coverings, browse our bar stools and chairs that match their height. Our expansive catalog has thousands of accessories that will prepare you for any occasion..
These portable tables are affordably priced and are great for economically setting up an attractive display. Whether you're at a fancy wedding, a modest get-together, or a commercial exposition, you can find a sturdy surface and an durable tablecloth to match.