Trade Show Furnishings – Display Tables, Seating, Counters & More
---
Trade Show Furniture - Portable and Event-Friendly Display Fixtures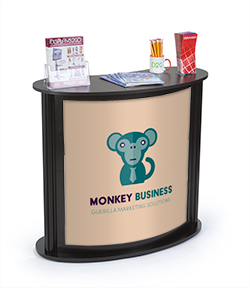 Want to make sure your exhibit booth stands out? Adding trade show furniture not only draws attention but serves as a powerful promotional tool for any exhibitor. Flashy banner stands and signage may catch the attention of passing expo attendees, but your exhibit furnishings are what make them linger.
The Importance of Exhibit Furniture
Not investing in trade show booth furniture can be a critical mistake for first-time trade show exhibitors. It's not just about design and décor, though that's certainly a critical component of your booth setup. Exhibition furniture can serve a multitude of purposes, all working to make your booth as successful as possible.
Eye Catching - Ensuring your exhibit display stands out from the competition is one of the primary goals of all trade show vendors. Paired with your banners, pop up backdrops, and other booth essentials, your furnishings offer a unique opportunity to personalize your space and make it truly one of a kind.
Professional Look - They instantly give your exhibit display a polished and complete look. Choose booth tables, chairs, and counters that match the look and feel of the rest of your booth and your brand for a unified and consistent display.
Welcoming Environment - After walking around a convention or expo for hours, attendees are always appreciative of a place to sit down. Offering these havens is a great way to draw people in to your booth for extended periods of time. Use your event furniture to create an inviting space for people to rest and recharge. The longer they hang out in your booth, the more they're apt to learn about your business.
Brand Promotion - Every surface of your booth is valuable real estate for promoting your business - even the furniture. When appropriate, opt for custom trade show furniture to display your logo and boost brand awareness. From counters to kiosks to table covers, Displays2go offers plenty of custom furnishings and displays for your trade show booth.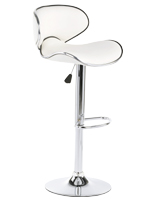 Unlike home or retail furniture, exhibit fixtures need to be portable and easy to transport. Exhibitors need to be agile, able to spring from event to event. The last thing you want to be doing before a trade show is breaking out the toolbox to assemble your tables and seating. With portable event furniture from Displays2go, you take your booth setup from carrying case to completion in a matter of minutes.
Common Types of Trade Show Furniture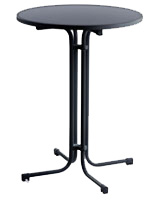 Display Counters & Kiosks are the anchor of a strong trade show booth design. It's the center of operations for your whole display, where event attendees gravitate toward to find more information or make a purchase. All that attention makes it very valuable real estate. Use that to your advantage with a custom exhibit counter. Many of our kiosks are available with customization options to perfectly promote your brand.
Portable Tables don't just add dimension to your space but provide ample room for displaying merchandise. Some styles, especially cocktail tables, promote conversation - perfect for connecting with event attendees in a more meaningful way. All of our exhibit tables are portable for easy transport. Pair it with a fabric or stretch table cover for a polished look. You can even get a custom printed tablecloth to create a stellar, on-brand booth.
Exhibit Seating & Chairs are a welcome sight to exhausted trade show attendees. A dedicated lounge area creates a welcoming environment where people can sit down and relax. Choose from standard plastic folding chairs to director chairs to pub table sets and more. For a more stylized look, check out our variety of bar stools.
Display Cases & Towers brings merchandise up to eye level. Unlike the displays for retail stores, our exhibit display cases are designed for easy setup and disassembly. Portable display cabinets pack up quickly into the accompanying shipping case, just like the rest of our trade show equipment and fixtures.
Displays2go deliberately selects each item of our trade show furniture collection to suit the unique exhibition vendors. Our selection of portable fixtures makes sure you can jump from event to event without a hitch. With vibrant and commanding customization options, your display booth will easily pop out from the competition. Build a trade show setup that makes a lasting impression and commands attention with accessories from Displays2go.