Sandwich Boards for Store and Restaurant Sidewalk Advertising
---
Portable Sidewalk Signs Entice Customers Through Your Doors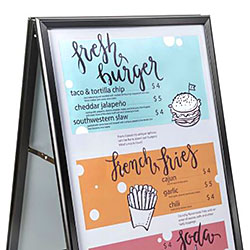 Looking to attract potential revenue walking right outside your front door? Sandwich boards are one of the most effective ways to grab the attention of passersby. Fun and witty messaging is an increasingly popular way to lure customers with the promise of a good deal or a good time. With outdoor sandwich boards, you can write, add, or change information readily when the need arises. What types of sidewalk signs are you thinking about? Our expansive collection features changeable letter boards, styles with weighted bases to ensure your graphics stay put, and much more. Sandwich boards with write-on surfaces are perfect for creating vibrant messages that pop, while a slide-in style or snap frame can feature your branded posters. Want something a little more traditional? Check out our selection of folding A-frames with simple chalkboard surfaces.
Our restaurant sandwich boards are manufactured from injection-molded plastic, wood, or extruded aluminum. These signs are efficient, changeable, and weather-resistant, or in some cases entirely weatherproof. We carry pavement signs for any kind of retail establishment at reasonable prices to fit any budget. While rated for outdoor use, they can just as easily be used indoors. Not sure what type of signage you're looking for? Check out "Sidewalk Signs: A Buying Guide" for helpful hints on what best suits your business needs.
What are the top applications for portable pavement signs?
Bar and restaurant owners use sandwich boards to promote lunch & dinner menus or to post funny quotes that give customers an idea of the fun they'll have inside.
Coffee houses and bakeries like to advertise a cozier, more local experience.
Salons owners use outdoor signage to promote walk-in traffic.
Valet services or public parking lots will often use curbside A-frames to direct the flow of traffic or notify patrons of a full lot.
Many retailers have caught on to the effectiveness of these portable displays and, nowadays, these folding units are seen all over. Indoor/outdoor signboards aren't limited to use just in restaurants! Consumers can see your messaging in shopping malls, at sporting events, even in schools. The large size and ease of portability make retail A-frames a fairly inexpensive alternative to large billboard printing or media advertising. They're also great for store owners who may not have a large window or space to hang an eye-catching display. It's just another way to capitalize on all that free real estate sitting right outside! Colorful flag banners also do an excellent job of luring potential patrons with vivid graphics and windblown movement.