Retail Display Tables and Pedestals for Commercial Store Environments
---
Counters, Risers, and Nesting Add Smart Style for Displaying Merchandise
How can merchandising fixtures enhance department store, boutique, or residential space? Our retail display tables are ideal for showcasing extensive product lines with incredible variety. Pedestal store fixtures help highlight key merchandise in a visually appealing way. Our retail display tables come in a variety of styles and models fit to match the decor of any environment. Businesses like department stores, consignment shops, museums, bakeries, and homes can use these platforms to organize a product selection and promote merchandise effectively. Conserve valuable floor space while simultaneously maximizing the amount of inventory that can be presented with retail display tables. The smarter your products are presented, the more likely your customers will be to pick up an item.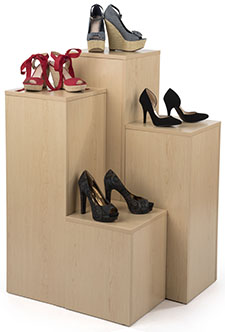 What types of merchandising fixtures are available?
Our round retail display tables are great for commercial settings that need to showcase product lines with many styles, colors, or variants. These counters can also be used in boutiques or gift shops to showcase smaller inventory.
Display table exhibit counters with iPad attachments are well suited for trade show or craft show use. Our models come with attachments for signage as well, which is great to promote a brand. Mall kiosk exhibits also use these fixtures. This is because they have the option of using an iPad for a POS system, while also having an area to stage their products for customers.
Our display tables come in all shapes and sizes. They can be used in museums, department stores, or even at events or parties. The larger models are great to present a relic in a museum or an expensive product at a department store. For a mood-enhancing alternative, choose illuminated risers with colorful, glowing LED lights. These come with lots of lighting effects that gradually change color from one to the next. Or, opt to keep one color on at all times. LED risers add ambience to any modern interior environment! Our pedestals are also ideal to use as small counters for an events like weddings or wine tastings where people can leave food or drinks at while they are mingling with guests. Since the tables are sold in various sizes, some are purchasable as smaller risers to showcase jewelry, shoes, or small keepsakes. Certain stands are sold in sets of four. This makes it convenient to mix and match pedestals creating an eye catching product exhibit and store layout.
Oval and rectangular tables are well suited for clothing or other garments. Multiple tiers make it easy to present products in an appealing and effective way. Highlight special promotions or sales using the sign attachments. Since our fixtures feature 360° access, they create ideal islands or centerpieces. The top tier is flat, allowing the showcasing of signage or sale posters. Some counters have a melamine finish, making them an inexpensive alternative to solid wood.
There are many advantages to having merchandising tables in your retail store, gift shop, or food establishment. They occupy little floor space, but provide abundant shelf area for presenting and storing objects. Marketing materials like clothing, handbags or other items is possible with our retail counters. Multi-tiered store displays can stand alone, or can be used in a group to create a larger retail exhibit. Displays2go offers a variety of merchandising fixtures to showcase products of all kinds. If ordered by 3PM EST, most purchases will ship the same day.