Retractable Stanchions with Nylon Belt Barriers for Queue Lines
Queuepole Stanchions by Displays2go
---
Queue.Pole and Tensabarrier Stanchions with Retractable Belts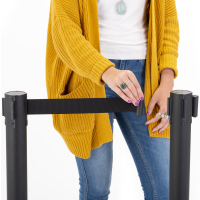 Do you need to create a checkout line, queue, or safety barrier? These retractable stanchions are easy to set up and rearrange, so you can create whatever crowd control layout you need at a moment's notice. Each post uses an extendable nylon belt, some up to 13 feet in length, allowing you to create dividers and perimeters in a multitude of shapes and sizes. These retractable stanchions with four-way line adaptors also make it easy to arrange complex setups. Every post has three receiving points, so changing your queue line layout is as simple as sliding the end of the belt off one pole and locking it onto another. This feature makes opening and closing checkout lanes a breeze, as well. Because there is no complicated mechanism or hardware involved, you can restructure your whole crowd control layout in minutes — no tools required. The best part? These affordable retractable stanchions are built with budgets in mind. Without skimping on quality, safety, or reliability, you can outfit an entire lobby, checkout area, or event entry line without breaking the bank. In fact, our QueuePole.Value line was designed specifically to be cost-effective and utilitarian for small businesses and bulk orders.
What styling options are available?
Choose your finish — When you think of retractable stanchions, you're probably picturing a black, stainless steel post. While that's far and away the most popular choice, there are a few more vibrant options that you can use to make a statement. Polished chrome lends a modern, high-end feel to interiors. Delicate satin brass recalls eras of luxury and class, making them an excellent choice for special events and theaters.
Choose your belt color — There is no shortage of vibrant hues and subtle tones available to complement your decor. Select something splashy and bold, like red or pink, to stand out in muted surroundings. Or, let your crowd control blend into the environment with subdued colors like navy and gray. No matter what your design philosophy, there's a belt to match.
Customize and personalize — make your crowd control really stand out with a variety of printing options. Perhaps the most popular method, a silkscreened belt featuring company branding or a new product logo is ubiquitous for a reason. 1, 2, or 3 color printing across the length of the band serves to reinforce your brand with customers where it's guaranteed to be seen. If you're thinking outside the box, consider a clear plastic post with a custom vinyl graphic. Advertise across the full height of the pole, creating a wraparound message that's highly noticeable. If you've already got crowd control fixtures and want to achieve a similar effect, a custom fabric wrap is a cost-effective and quick option.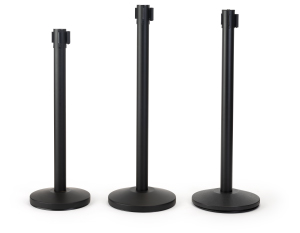 Every full-size crowd control post we offer has a weighted, rubberized base to prevent tipping. So even during periods of extra heavy traffic, your queue line will stay standing through the occasional bump and tip. Specialty fixtures like miniature museum poles and wall-mounted belts are also available to help outfit your business with the barrier best-suited to your space. For warehouses and industrial areas, high-visibility options and safety cone bases ensure that workers and guests are aware of off-limits areas.
Why stop at creating a great crowd control system? From signage for advertising sales, products, and events to post-top dump bins for quick impulse buys at checkout, these barriers go well beyond organizing guests. Offer extra convenience to visitors coming in from the rain by providing umbrella bags on hooks as soon as they check in. If you're short on space, these crowd control accessories can add the extra functionality you're looking for, without taking up any extra room.