Wall Mounted Stanchions Restrict Access Without Clutter
---
Wall Mounted Retractable Belt Barriers Attach to Post Stanchions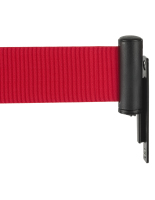 Do you need crowd control fixtures, but don't have the room for posts and bases? Wall mounted stanchions attach to flat surfaces, saving on space and reducing clutter. Many of these are designed to work with QueuePole floor standing posts; these barriers have a pull-out band that locks easily onto a receiving pole. Some models include a magnetic end that allow warehouse workers to quickly close off an aisle by attaching it to a metal bay or shelving unit Use a wall as the outer edge to a checkout line or block off an employees-only area with these retractable belt wall mounted stanchions. Close off and open up checkout aisles with ease, thanks to the slide-on receiver clip. A three-way adaptor expands the number of configurations possible, helping you to create the queue line arrangement that's just right for your space. Get reliable crowd control without the clutter of posts and bases with these wall mounted stanchions.
Where can I use surface-mounting retractable belt barriers?
After moviegoers purchase their tickets at the box office, they're typically guided to a staff member who tears their stub and points them to the right theater. Wall mounted stanchions on either side help to funnel large groups of patrons through one entry point for validation.
Use a retractable belt barrier to restrict access to unsafe areas. In a workshop or warehouse, it can be necessary to periodically block off portions to anyone but the assigned workers. These fixtures allow you to quickly close and reopen these areas.
Clearly show customers which checkout lanes are open with these extendable nylon barriers. Especially during the holiday season, retail can become hectic. Respond quickly to a large influx of shoppers by assigning more cashiers and opening up lanes easily.
If you can hang a picture, you can install these retractable belt barriers. All the necessary hardware is included, so you can set up your new crowd control system right away. Some even utilize a magnetic mount, making a flat metal surface the only requirement for setup. The powder-coated black steel finish blends into nearly any environment, making for a subtle fixture that won't draw unneeded attention. If you do need that little bit of extra flash, a brushed silver option is the way to go. Looking to mix surface-attached and floor standing retractable belt barriers? Versatile, affordably-priced QueuePole.Economy posts use the same cassette, meaning the bands, locks, and receivers are all compatible with one another.