Edge Grip Standoffs (Sets of 2 or 4)
---
Edge Grip Standoffs - For Glass Signs No Drilling Holes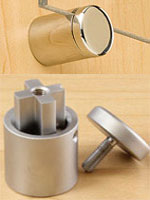 This edge grip standoff doesn't require predrilled holes in your sign panels. This could be an important consideration for your sign system depending on whether you won't or can't put holes in your substrates. Edge grip standoffs grip the edges of the substrate resulting in quicker installations. Glass standoffs, sign supports, and other types of sign hardware mount artwork or signage off the wall giving them a three-dimensional effect. For a sign display, this can bring a very appealing and dramatic look. This sign hardware is made with quality brass either have a chrome or satin silver finish. Edge grip standoffs, such as these wall mount standoffs and sign mount supports, can transform ordinary sign installations into something unique.
What benefits do these no drilling needed standoffs have?
Edge grip standoffs are made to support glass, acrylic or other fragile material signs.
Easy installation requires no drilling holes.
Locking stanoffs are securely holding the signs and protect them from being removed by others.
Buy standoffs for your next signage job! Installing our sign display is a cinch. After the standoff wall mount is attached to your wall, place your sign into the inset on each standoff. Then hand tighten the standoff cap to secure your sign. Finally, use the provided allen wrench to torque the standoff cap tight. Our sign standoffs are economically-priced but offer an expensive-looking final result. We supply sign hardware for sale to retailers as well as to the sign industry. Try some designer standoffs today and start realizing the benefits of utilizing professional-quality materials.
This sign hardware, an affordable sign system, is all about elegance and its effect on consumers. Sign mount applications are almost unlimited: lobby displays, store signage, museum displays, artwork, corporate identity, the list goes on. Buy sign hardware for your next installation and present an awesome display. Check out our other panel supports: Through standoffs and Corner standoffs. "Through" standoffs require holes in your sign panels whereas the "Corner" style, like these Border types, does not. Choose which type is more suitable for your application. All of our standoffs are available for sale from Displays2go. Browse our Display Hardware category for other retail sign ideas. We specialize in sign hardware. We're always on the lookout for new and exciting sign support systems. Displays2go, producing display products since 1974, is proud to bring these great products to our customers. Our years of priceless experience within the industry has enabled us to provide a constant stream of new POP display products.