Countertop Acrylic Display Cases with See-Through Shelving
---
Countertop Display Cases Made of Clear Acrylic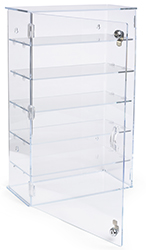 What's the best way to get my product to stand out on my retail counter? Countertop acrylic display cases are great for featuring high-interest items where everyone can see them. These showcases have a clear design that makes merchandise visible from any angle. Using countertop acrylic display cases to feature the newest electronics and trending products will make them stick out like a Lamborghini in a parking garage. Our professional looking enclosures make items look special while preventing dust buildup. Order countertop acrylic display cases and create high-profile showcases that will generate interest and more importantly – sales!
What features are available with these clear tabletop displays?
Countertop acrylic display cases with locks keep your most valuable items safe. These are ideal for preventing theft in busy retail stores. Customers will easily see the product but shoplifters won't be able to take it.
These full-visibility fixtures are available in a number of different fabrications to fit your needs. Acrylic display cases also come with different shelving layouts, including straight and angled ledges for featuring products in a variety of presentations.
Our line of tabletop pedestals feature LED lights, creating an impressive centerpiece in any room. The illuminated counter showcases are great for giving attention to artwork and artifacts, not just special merchandise.
It's true, acrylic display cases are often used by retailers to feature their merchandise, but these aren't the only places that require high visibility enclosures. There are a number of other locations where this versatile design can flourish.
Where else can these clear tabletop showcases be used?
Show off treasured collectibles like model cars and action figures around the house. Keep the dust off of your prized keepsakes or just make it known that they're special to you!
The full-view display cases are also great for featuring objects that are meant to be viewed in museums and galleries. Keep precious stones, artifacts, and sculptures in these high visibility holders.
In the office, see-through tabletop showcases can put product samples in the spotlight — whether they're placed in the lobby for visitors or sitting on an employee's desk. This is a great way to show pride in the company's craft!
These full-visibility display cases are excellent for making any object the centerpiece, whether it's on a crowded retail store counter or a shelf with filled with collectibles. The enclosures send a clear message that their contents are important. Order on Displays2go.com for fast shipping and wholesale pricing today!