Tilting TV Mounts with Wall, Counter, and Ceiling Hanging Designs
---
Tilting TV Wall Mount Angles Flat Screens for Comfortable Viewing

Ensure ideal screen positioning with this tilting TV mount selection! These low profile wall, ceiling, and desk brackets all include a special feature to solve some of the toughest installation and viewing challenges - getting your screen tilted to the perfect angle! Many customers ask "can this tilting TV mount be installed by one person"? Although the actual task of attaching the plasma bracket to the wall can be done solo, two people are typically needed to position the flat screen. However, with your LCD television mounted on a tilting TV wall mount, just one user can quickly change the angle of the screen for a perfect presentation. Some of these flat panel brackets allow for adjusting the LCD monitor both up or down, depending on the personal preference. Other tilting TV wall mounts in this category also include articulating arms to control the distance of the flat screen from the wall! This feature is advantageous for waiting areas and boardrooms. Taverns and restaurants like to use this tilting TV bracket to hang flat screens for entertainment purposes. Hotels typically hang these mounts in the lobby to advertise services offered as well as upcoming live entertainment.
Do any of these angled TV brackets tilt both up and down?
There are some tilting TV mounts with universal designs that can be adjusted both ways.
Likewise there are TV brackets available that can also be panned side to side.
For users with fewer needs, there is a selection of low profile mounts that only adjust in a downward angle.

More and more homeowners are choosing to buy a tilting mount for their TV rather than the standard tabletop model. These wall units save valuable floor space and their adjustable features make them easy to see at all times! This selection of adjustable plasma brackets is very diverse, and is sure to contain a fixture to satisfy most any need. In addition to this tilting wall mount selection, there are fixtures for desk and ceiling use. This allows customers the choice to select the bracket to best suit their needs. Residential and retail settings can benefit from the use of this angled mount for TV, as it allows for hanging flat panel monitors on the wall, which frees up precious floor space. Businesses can utilize these LED wall brackets and desk displays, as the user can quickly angle the flat screen for perfect viewing during seminars. The ceiling fixtures are also excellent options, especially for locations with a lot of overhead space!
LCD mounting options are just one of the many television mount solutions available here. Tilting mounts, plasma holders, and other wall mounts are all included in the main television stand category. Many of these universal brackets are in stock & ready to ship, allowing customers to have displays in a matter of days! No other competitor can compete with this type of expedited service! Buy TV mounts that tilt in bulk quantities for larger savings. There is a plethora of flat screen holders offered here in a wide range of sizes. There is even a model that will hold an LCD television ranging in size from 10" up to 85". Many of the items shown above can hold multiple different sizes of monitors, so there is no need to buy different styled fixtures. For instance, this tilting TV bracket featured here can hold a flat panel that is anywhere from 36" up to 85". With that; a business can purchase a large number of flat screen mounts for all of the monitors to maintain a more uniform look. For customers that are looking for a tilting TV holder, look no further. There is a low profile mount here that will meet or exceed any business or personal needs.
What are some other useful tips to take note of with tilting LCD mount?
When adjusting the flat panel monitor be certain to hold both the bottom and top of the monitor to minimize stress on the bracket.
When choosing a spot to affix the wall, desk or ceiling mount, consideration should be given to the average eye level of the viewer.
Users should be informed of the location of the nearest electrical outlet when mounting these flat screen televisions.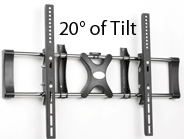 Supplemental plasma brackets in addition to those shown above include; articulating, fixed, and remote controlled which you can visit at the Displays2Go online catalog. In business for more than four decades, this business is a well-established POS displays and store fixtures manufacturer and provider. Customers can purchase with confidence knowing that this is a reputable company with an exemplary reputation. With more than 7000 different merchandise, and nearly two million units in-stock, this is the grandest selection offered online. Acting as both the manufacturer and seller we are able to offer low wholesale pricing on high quality objects with same day shipping. Most of the in-stock items ship the same day when ordered by 3PM EST. Some restrictions apply on items such as; large display cases, and custom graphics. For regular in stock objects ordered after the 3PM cutoff, items are shipped the following business day. Check the product page for more information regarding the same day shipping policy. Looking for custom options such as logo printing or a sign display with a custom graphic? Most custom artwork is done on-site; details are located on the specific product pages. For further inqueries regarding lead times and other buying requirements for custom print objects, or any of the items sold here contact a customer service specialist today at 1-800-572-2194! There is also a live chat feature staffed for instant access to a representative that can answer those random questions that come up while browsing through a website. Displays2go – the nation's #1 source for store displays and retail merchandising supplies!