TV Mounts for Corporate Offices, Shopping Centers, and At-Home Workstations

Popular Products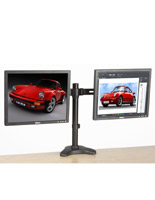 $79.99
Desktop Dual Monitor Stand for Screens 10 to 24", Rotating Brackets - Black
Shop All TV Mounts
---
HD TV Mounts - Brackets for Ceilings, Walls, & Desktops
TV mounts allow anyone to securely display their HD flat screen televisions on the wall, from the ceiling, or on a desktop! Brackets come in many sizes and styles, including full motion, articulating, tilting, fixed position, and low profile designs. Learning more about these important features can help you find the HD TV mount for you! Full motion mounts with articulating arms are great for areas where users would need to view the flat panel from multiple locations around the room, like office conference rooms or living rooms. Users can simply pull the mount out from the wall then tilt, swivel, pan, and adjust it until it's in the perfect viewing position! Conversely, for an LCD or LED TV, save space with a low profile wall mount. Many extend only any inch or two from the wall and are made to look sleek and stylish. Looking to position your computer monitor on a secure and adjustable stand? We also provide a wide selection of desk mounting brackets for this very purpose! Models clamp right to side of desks and tables to ensure the stability of multiple monitors and include many of the same features that our wall brackets boast, such as full motion arms. Lastly, browse the selection of ceiling mounts; great for waiting rooms, lobbies, hospitals, and school hallways. Use them to display directories, play live television, or post announcements in high traffic areas without taking up any floor space! Available in varying VESA sizes, you can find the right TV mount for your display.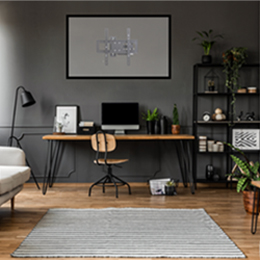 Working From Home Has a New Look
With more workplaces operating from an at-home/hybrid basis, it is vital to ensure that your office is equipped to help you stay productive, focused, and in touch with your team. Including another screen into your existing set-up will make video-conference meetings a breeze, allowing your teammates, powerpoints, and spreadsheets to appear on larger panels while you can continue work from your desktop.
While many of our customers, including corporate employees, remote workers, and even video game players opt for multi-monitor systems, many have chosen to go with a television to display their desktop. Take advantage of any of these TV mounts to secure a large flatscreen television above your home workstation and display relevant stock charts, spreadsheets, analytical data, video calls, or any other form of information that you need readily accessible to help your workflow. With socially distanced workspaces becoming more and more prevalent, employees are spending more time working from their home, as such, it is incredibly important to create a space that promotes productivity and comfort.
Where do our Customers Best Utilize these TV Mounts?
Tv mounts are not limited to home offices either, we are seeing many big-box stores place ceiling hanging televisions at the entrance of self-checkout lines displaying a security feed of the scanning area to help prevent shoplifting. Similarly, many of our customers place hanging digital signage in entryways and update content as needed through an integrated content management software we offer in many of our displays, thus helping relay public health or promotional material to their guests upon arrival. Corporate offices tend to use these mounts in their conference rooms, making it a simple task to present powerpoint slides to larger groups without obstruction. Whether you are choosing a wall, ceiling, or desktop tv bracket - it is important that the valuable electronics on display remains secure while the fixture itself makes a minimal visual impact. As such, we offer a plethora of low-profile options to accomodate home, office, and store decore and keep the focus on your work.
Choosing a TV Mount
To find the right mount for your TV, you'll need to know your television's VESA size. VESA stands for "Video Electronics Standards Association, and generally refers to the placement of the mounting holes on the back of your flat screen. To learn more about VESA sizes, read our helpful article! Next, you'll also want to know your televisions screen size and weight. Many mounts have max weight limits, in fact. If you're unsure if your screen will fit one of these mounts, just reach out to our customer care team through live chat or by phone at1-800-572-2194 . We would be happy to make a product suggestion for you based on your unique needs!