Table Top Trade Show Displays - Full Color Graphic Printing
---
Table Top Trade Show Displays with Three Dimensional Multi-Panel Modular Design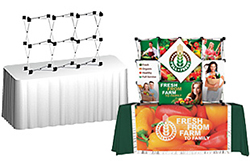 These table top trade show displays are an excellent addition to exhibit booths with their unique three-dimensional design! This type of portable advertising system is commonly used at large-scale, public events to attract attention and increase interest. Each of the modular, portable table top trade show displays comes with full-color printing for attracting expo goers. Designing and integrating a visually promotional event presentation is a great way to reach potential customers that may have otherwise just walked by your booth. These table top trade show displays, known as 3D pop up modular advertising fixtures, steal the show while helping build service, product, or brand recognition!
What makes these presentation stands great for customized promotional messaging?
Modular table top trade show displays are lightweight, which means they are easy to transport to and from the exhibition hall. Each one features a wide footprint, while the depth of the frame is less than one foot, for a slim unit that doesn't take up much space. The framework is made with lightweight silver aluminum struts connected with black joints.
The 3D look of these lightweight fixtures comes from multiple fabric panels that button to the frame at all four corners for a taut appearance. A variety of shapes, including squares, rectangles and diamonds, attach to either the front or rear of the framing to create a three-dimensional effect. The full-color panels can be arranged and re-arranged as desired for a truly modular, customizeable look that can easily accentuate particular messaging or product lines as needed.
Multi-banner pop up fixtures include a soft carrying case to facilitate transportation. Each bag is the perfect size to accommodate these versatile trade show displays, and smaller models even leave room for additional promotional accessories. Moving portable modular systems between events or booths has never been easier! This custom printed tabletop exhibit display is not only easy to transport, but also sets up and breaks down quickly and easily.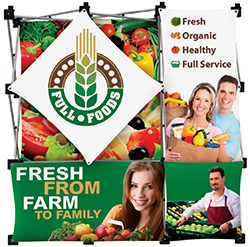 Our high visibility trade show booths or stands are completely customized with personal artwork! The three-dimensional panels feature full-color vibrant printing with designs of your choice. We offer easy-to-use templates for Adobe® Illustrator and PhotoShop. The material is stretched at the edges, so keep text and logos towards the center of each fabric panel, where images look their best. The modular full-bleed, full-color graphics are ideal for showcasing graphics, messaging, advertisements, and brand logos.
These three-dimensional portable pop-ups are an ideal addition to any exhibit booth! They feature a variety of square, diamond, and rectangular material panels. The exhibits showcase a specific, custom-designed message to a onlookers. Expo booths are often crowded with several exhibition elements like tables, floor-standing banner stands, literature dispenser systems and more. These portable tabletop pop ups are a great way to reduce the amount of fixtures needed to attract potential customers or patrons. Banner graphics can be placed directly on top of a table or counter, with supporting literature or information in front on it. Modular 3D frames and portable systems add style to tradeshow booths, and are also available in floor-standing 3D booth configurations for use as exhibit backdrops!