TV Carts with Shelving - Flat Screen Mounts with Wheels and Shelves
---
Floor Standing Television Carts with Shelves for Media Devices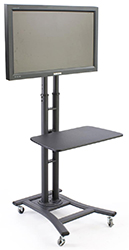 Using a flat screen in large buildings can be cumbersome. These TV carts with shelving make moving your electronic display a breeze. Each electronic signage holder features caster wheels for easy transportation from room to room. The TV carts with shelving also have convenient counter space for holding media sources like laptops and Blu-Ray players. Whether you're making a presentation in the office or providing entertainment in a hospital room, these fixtures have everything you need. TV carts with shelving are made for bringing programming to any room in the building.
What are the best places to use these wheeled television stands?
TV carts with shelving are excellent for schools where teachers can share a flat panel between classrooms. Older mobile television stands were heavy and hard to move — choose a model with a thin frame that's easy for both instructors and students to move from room to room.
TV carts are excellent for making presentations in offices. Having a meeting in the conference room? Just wheel the unit in! Want to show employees an instructional video at their desk? Just roll it over! Keep important documents close by with the included shelf.
Healthcare facilities often make use of these wheeled television stands. Keep visitors awake while they sit in the waiting room while offering informative literature. Alternatively, hospitals can use the displays in patients' rooms for entertainment.
Trade show exhibitors feature portable models in their booth, showing commercial advertisements to capture onlookers' attention. Some of these flat screen displays come with a carrying case for conveniently taking them on the road.
Hotels find a number of uses for these mobile flat panel mounts. Play promotional messages in the lobby and inform visitors about nearby attractions. Roll the television racks into the meeting room when patrons host events.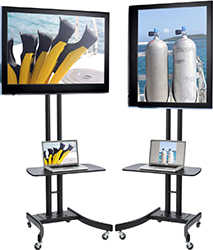 What features make these mobile television stands worth the purchase?
Each flat panel cart is made of strong metal, such as steel and aluminum
All brackets use standard VESA sizes for maximum compatibility
Assembly hardware and instructions are included
The electronic signage carts are offered in neutral finishes like black and silver
Caster wheels can lock for extra stability during viewing
Our displays, like all of the fixtures in our catalog, are made for durability and ease of use. Of course, we offer a number of different models to accommodate organizations with different needs. Models with tilting and adjustable height brackets are ideal for businesses that need to change the viewing angle on their set. Others have an extra shelf on top for holding a camera, an excellent choice for teleconferencing. Flat screen holders with multiple monitor mounts and extra shelves are also useful for more display and storage space respectively. Order on Displays2go.com for fast shipping and wholesale pricing on all of these fixtures!