TV Display Racks for Trade Shows in Small, Medium, Large & Portable Styles
---
Flat Screen Stands for Trade Shows — TV Truss Racks with Counters & Shelves
Why do flat screen mounts come in so many sizes, configurations, and styles? In order to meet all of today's business and retail advertising needs,TV display racks must be versatile. Our featured line of trade show monitor stands double as work stations and entertainment centers. Digital kiosks with brochure pockets and poster frames boost brand recognition in convention centers, keeping customers connected after an event. Displays2go.com TV display racks have universal mounting brackets that are compatible with most flat screen televisions on the market. Extra-large digital displays are high-impact marketing tools in airports and casinos. Large- and medium-sized monitor stands are found in malls and theaters. Sports arenas buy TV display racks to pack a promotional punch across a large venue with lots of foot traffic. Our smaller technology carts support activities common to medical and college settings, like classroom lectures. Our monitor stands are go-to presentation tools at trade shows and sales meetings. Many function as portable workstations in myriad locations, even at home.
What are the most popular styles of flat screen television stands?
Our TV display racks come in small, medium, large & extra large sizes as well as portable models and workstations.
Mobile Workstations come with shelves for AV equipment. These stands work for lectures in classrooms and hospitals, or in the office. They are often used to document doctor's visits and lab statistics in medical centers.
Portable flat panel display racks are collapsible make setting up and breaking down trade shows painless. Truss, modular, and fixed-base styles can be disassembled and stored in the included carry cases.
Small LCD Carts are used as work and lecture stations in classrooms and medical offices. Some models offer literature pockets, while others have promotional banner holders, locking features, and be sure to note that some displays are dual-sided.
Medium TV Displays are available with literature pockets. Some stands are dual-sided for visibility in malls or large conference centers. These stands are great for auto dealerships, community centers, and libraries.
Large Flat Screen holders are even more visible on a large trade show or convention center floor. Capture attention with a combination of tall digital signage and static posters.
Extra Large Television Panels are popular in big lecture halls. They are also used in hospital and university settings. Many of the super-sized units have a weighted base to avoid tipping. Stream nine programs or presentations at once using one of our multi-screen displays!
Our VESA-rated mounting brackets are compatible with a wide array of industry models. Large television displays with signage are perfect for airport and casino advertising, while smaller models require small flat screen panels. Many of our flat screen mounting systems have a sleek enough design for use in a trade show booth.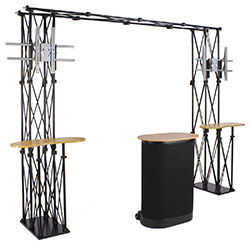 In addition to size and style, what features are important to consider when buying flat screen mounts?
Signage and brochure attachments: Some television displays feature poster frames and literature pockets for dispensing collateral publications. Look for adjustable pegs so both trifolds and magazines fit.
Travel cases: Supplies get lost on the road, so having a carry bag or flat screen display storage cart is a must. Hard shell travel cases keep expensive equipment from getting dented in transit. Wheeled storage carts with custom padding hold counters, shelves, and technology enable digital signage in modular configurations to go on the road.
Easy assembly: Our stands ship with the hardware necessary for easy assembly. Our truss styles are collapsible so there aren't a lot of parts to lose! Hardware ships with the merchandise.
Price point: Buy our affordable technology mounts in bulk for a chain of stores or hotels, and enjoy wholesale prices!
Cord management: Stands look best when electrical charger cords are concealed. Buy units that manage cables and extraneous cords so your presentation area looks neat.
VESA-rated brackets: Our TV mounting systems feature universal media specifications. They are compatible with a wide array of monitor styles.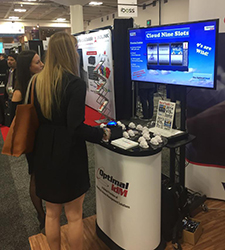 Truss racks with counters and shelves are easy to assemble and break down. The collapsible design enables the transport of large systems and lots of components. Most of these collapsible stands have gliding casters for transport from venue to venue. Some of our heavier models have an electrical lift that lowers them into their travel case. It takes minutes to assemble most of these display fixtures! Many of our LCD flat screen stands incorporate poster displays and brochure dispensers. Other monitor stands come with counters for product demos or shelves for merchandise. For brand reinforcement, buy racks with poster attachments and brochure dispensers to keep customers connected.
Displays2go sells merchandise that combines quality, style, and function with affordability. Shop our collection of fixed and portable TV displays for advertising, today! Our supplies when in stock ship fast. Check with our customer care experts on shipping schedules for specific orders. Remember to ask about reduced pricing for merchandise purchased in bulk. Shop the website-at-large for related promotional fixtures for retail showrooms, exhibit spaces, professional offices, community centers, and educational venues.