Outdoor Menu Displays - Exterior Wall Mounts for Restaurants
---
Displays for Advertising Menus Outdoors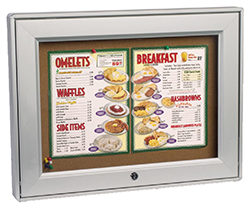 Want to advertise dining options where everyone can see it? Why not use our outdoor menu displays to put daily specials or a wine list right outside your establishment? These wall mounted cases have a durable design that makes them ideal for featuring specials, ads and other promotional material. Our selection of outdoor menu displays, or exterior menu boards, includes an assortment of different sizes and styles to match any business. In addition, these fixtures ship same day to help promote your restaurant as fast as possible. Browse through our outdoor menu displays for the one that's right for you.
What features make these exterior menu boards a great choice for any establishment?
Our outdoor menu displays are made of durable aluminum for use outside, even during inclement weather. Each unit has a swing-open door with a rubber gasket that prevents water from entering the frame. The mounts additionally include a clear polycarbonate lens for easily seeing promotional material.
Each menu display has a large surface for attaching papers, posters and other promotions. This comes in two styles: a self-healing cork board or a magnetic backing. Both options make it easy to add and replace prints, whether you're using push pins or magnets.
Menu displays are available in a variety of sizes to accommodate any establishments' media. This ranges from 11" x 17" to almost five feet wide. These are often sized to fit large posters and multiple sheets of paper, featuring as much of your information as needed. Not only can they feature dining options, but you can advertise upcoming events, special offers and much more.
All of our exterior menu boards include a secure lock that prevents passersby from opening the frame and accessing your list of house specialties. This also ensures that the door stays closed, keeping paper safe from moisture damage.
Some food and drink displays come with an additional header area for displaying your restaurant's logo. If you're using the framing to feature important info, consider using this area to say "Announcements", "Information" or other attention grabbing signage.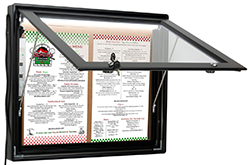 Where else can these restaurant display boxes be used? While they're made for outdoor use, they make excellent indoor fixtures as well. Community centers, schools and offices can use these to feature their meal selection for their cafeteria. Their versatile design also makes them excellent for use as bulletin boards, where anyone can read important event notices and information. Wine list displays like these can also be placed in a waiting room, lobby or hallway where visitors will be able to see them. Click here for a larger selection of secure bulletin boards. If you can't fit one of these wall mounts outside your bistro, try our floor stands for featuring dining options and wine lists.
Why order one of these exterior menu boards from Displays2go.com? Each one includes the proper mounting hardware and installation instructions for an easy setup. All of our company's fixtures are sold with wholesale pricing to supply any business. In addition, all of these frames benefit from same day shipping to get your order to you as fast as possible. Find 1000s of retail and commercial fixtures on Displays2go.com.