Video Conferencing Cart - AV Components
---
TV Stand Mounts for Conference Rooms w/ Wheels & Webcam Shelving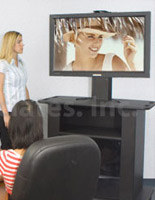 Why is the tv stand mount or audio visual cart such an important purchase for offices? Productivity and efficiency is the answer! The right tv stand mount with laptop shelf can dramatically impact the amount accomplished in a meeting, as well as reduce the time it takes to set up equipment! Furthermore, an audio visual cart not engineered for business use can actually be a detriment to getting things done if for example, the screen is not positioned at the right angle or the bracket is not sized for your LCD monitor. This category of room tv stands and multimedia carts has been specifically designed to include only those units meeting the needs of a board room setting! That means extra features like laptop shelves and chord channels for audio visual equipment are built into these displays
What features differentiate these multimedia stands from a TV mount for retail or lobby use?
Wheels. Many of these tv stand mounts have casters so the tv stand for conference rooms can easily be positioned where all attending the meeting can see the monitor.
Shelves. Several TV stand mounts found in this category have shelves for storing laptops or other audio visual equipment.
Tilting monitor brackets. Each conference room tv stand adjusts to a slight downward angle for an optimal viewing angle.
Height adjustability. Many of the multimedia displays are height adjustable, which is an important feature for a tv stand mount used in large rooms, where meeting attendees may need to view the screen from greater distances.
Compact designs. The base of each unit is either designed to slide under a conference room table or fit compactly in a corner. Reducing the chance of someone tripping over the plasma television display.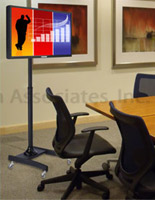 This category includes both carts and conference room tv stands in a single, easy to browse page. Other online retailers require browsing through dozens of pages to view this many choices. However, here at Displays2go, it is recognized that shopping for a conference room tv stand mount or multimedia cart needs to be a simple and straight forward process. To speed the shopping experience, there are filters located on the left-hand side of your screen. These filters allow you to narrow the selection of office tv stand mount by use, VESA size, mount features, number of tvs, stand features and LCD television size. Implementing customer-oriented features like this filter is just one of the many ways this online office room tv stand and laptop cart retailer is different from others!
Why purchase a tv stand mount or multimedia cart from this website instead of one of the larger online mega stores that sells televisions and AV presentation equipment?
In-house customer service. When contacting a customer service representative, that rep is trained by a product specialist.

Our LCD monitor stands customer support staff is located in the same building where the displays are warehoused.
Specialists available via live web chat, phone or email are Displays2go employees that are personally vested in seeing customers have the best experience possible.

Fast shipping. LED tvs and plasma monitors are kept in-stock, so lead times are short. Order before 3PM EST for same day shipping Monday – Friday.
Specialized expertise. This company has a team of merchandisers, product designers and engineers working tirelessly to ensure the best and most diverse offering of wall and free-standing LCD television mounts are available on this site. At shopping engine sets, shoppers see are a compilation of third party multimedia carts that happen to list on that site. Here these LED television stands with laptop shelves are hand-picked for sale on this site for use with professional-grade LED televisions.
These flat panel screen television mounts are all designed for compatibility with VESA specifications on most televisions. For verification that any given unit is compatible with your tvs, simply check the product page or use the filter located on the left of your monitor screen. These multimedia carts and audio visual stands all have a sturdy construction designed for use year after year in an office or conference room. Many LED stands with laptop shelves come with cabinets for storing a tower or other electronic equipment!
Plasma monitor stands for offices are only some of the many free-standing television mounts for sale in this online catalog. Display solutions are also available for advertising with digital signage in retail stores, lobbies and restaurants. This company is a leading innovator in the field of flat panel plasma screen mounts and e-posters! LED and LCD tvs are for sale on this website as well. Included with the purchase of a complete digital signage solution are free templates for creating custom e-posters or other messages. Founded in 1974, Displays2go began fabricating simple plastic, wood and metal point-of-purchase displays. Since that time our product line has grown to include thousands of POS marketing solutions, ranging from the simple acrylic sign holder to the elaborate plasma screen digital signage solution.